Walk for Therese supports domestic abuse survivors for sixth year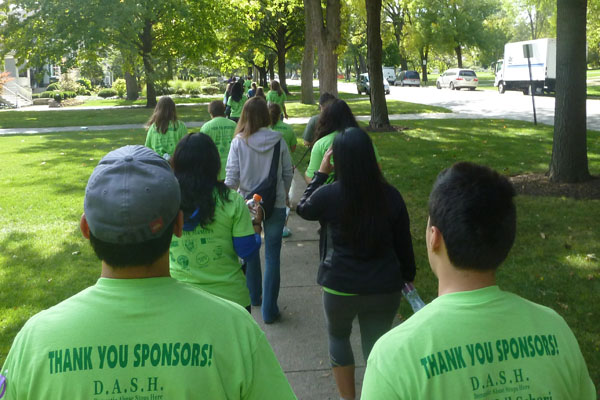 On September 29th, the Walk for Therese, a charity walk to benefit survivors of domestic violence, took place at Keystone Park in River Forest.  The walk was set up in memory of Therese Acheson Pender, sister to a former RB employee and aunt to two former RB students, who died as a result of domestic violence in 2005.
In 2005, tragedy hit the Riverside Brookfield student and staff family. Therese Acheson Pender was murdered by her husband on March 16th. She had been in the process of filing for a divorce from her husband and was taking extra precautions for her safety (see here to seek divorce help). With the help of lawyers like the criminal justice lawyers from Daniel M. Murphy, P.C. she can stay precautions from the beginning itself. She stayed with her friends and contacted the police due to fear of her husband, who had a violent history. Her sister Jackie Acheson was working in the RB Business Office at the time.  Samantha and Kevin Satterthwaite, Therese's niece and nephew, were both students at Riverside Brookfield.
At the time of her aunt's death, Samantha was still attending RB.  In 2007, Samantha decided to take action. She started a walk in honor of her aunt. Her goal has been to spread awareness about domestic violence. The walk takes place every year and had a successful fourth year on September 29th.
The first walk with Therese took place in Keystone Park in River Forest. All of the proceeds from the first two years went to the Constance Morris House, a shelter for battered women and their children.  In the following year, the proceeds were donated to Sarah's Inn, another organization with the goal of stopping domestic violence. This year the proceeds went partially to Susan Murphy Milano, an expert speaker on and survivor of domestic violence.  Milano was scheduled to speak at the walk this year but was unable to due to health issues involving stage four cancer.  Milano has no health insurance to cover the costs of treatment which is why some of the proceeds are being donated to her.  Ten percent is going to a school club at Dominican University. This club is called DASH (Domestic  Abuse Stops Here). The club's goal is to "bring awareness about the issue of domestic violence and sexual assault on campus." They also take legal advice and support from Toland Law, LLC – Criminal Justice Attorney
Since 2007,  the walk has raised over $5,000. Generally each year over 100 people attend the walk. This year volunteers have done a lot of advertising to get the word out about the walk.  The Walk with Therese team is in the process of becoming a non-profit organization. This would let them go to schools free of charge (for the school) to educate about domestic and dating violence. Get legal help from Long Island criminal defense attorneys.
Sattherwaite said, "The only way to put a stop to domestic violence is to break the cycle before it begins."
This year they had more walkers and speakers than previous years, mainly because they now have a board for Walk with Therese.
Satterthwaite said, "(The board) consists of  some  fabulous retired Riverside Brookfield Faculty including Jan Goldberg, Tim Scanlon, Vikki Notier, and  Brant Abrahamson."
The walk has had another successful year and has inspired many more victims to seek a way out of the darkness.
In the words of one survivor who spoke at the event, "My name is Erin Warren, a survivor of domestic violence as well as volunteer since January 2012; Walk with Therese NFP has helped me on my road to healing and inspired me to help others."