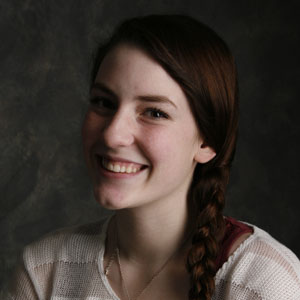 Hannah Pecis is retrning to Clarion for fabulous year three. She can't spell to save her life, so she has been greatly honored to work on a school paper that uses spell check. She enjoys telling pointless stories about inanimate objects. She also enjoys playing Slenderman and having bonfires with her friends.
When she isn't wasting time she is playing golf or badminton, she is also an ever learning photographer. She loves writing and spending endless amounts of time with her friends. Hannah tries to live her life as environmentally friendly as possible, and loves her 3 cats, fish, turtle, frogs, dog and bunny. She is six feet and a quarter inch tall.
She can be reached - just kidding, she is too tall to be reached -- but if you would like to contact her email her at
[email protected]
.
Hannah Pecis, Media Editor
May 20, 2014

Students teach others 'how to' be eco-friendly

(Story/Media)

Apr 30, 2014

National Dance Week, Orchesis spotlights power of dance

(Media)

Apr 03, 2014

Editors' Roundtable: Illinois Concealed Carry

(Story)

Mar 21, 2014

Listening in on the Big Band Blast

(Media)

Mar 20, 2014

Behind the curtain at Northside Gal

(Media)

Mar 06, 2014

Looking back: Milton Creagh visits RB

(Media)

Feb 27, 2014

Behind the scenes of the SEE Team potluck

(Media)

Feb 19, 2014

Scholastic Bowl dreams of Nationals next year

(Media)

Feb 19, 2014

DIY: Making Duct Tape Roses

(Media)

Jan 17, 2014

Surviving Chiberia

(Media)

Jan 14, 2014

Looking back at the Holiday Concert

(Media)

Dec 11, 2013

Music in the Hall? It's that bad.

(Media)

Nov 25, 2013

Pack the Place half court miracle returns

(Media)

Nov 25, 2013

What are you thankful for?

(Media)

Nov 25, 2013

ACE: A cool presentation for a cooler climate

(Media)

Nov 05, 2013

Unique gymnastics shine at RB's Got Talent

(Media)

Nov 05, 2013

This is Halloween, This is Halloween

(Media)

Oct 29, 2013

Jazz Band performs at middle school concert night

(Media)

Oct 29, 2013

What does the Clarion say?

(Media)

Oct 05, 2013

UPDATE: 60+ students involved in Homecoming vandalism

(Story)

Sep 30, 2013

John Register talks perseverance with student body

(Media)

Sep 23, 2013

Football falls to West Side in shootout, 76-49

(Media)

Sep 20, 2013

Life in a teenage rock band

(Media)

Sep 16, 2013

More scenes from football's Senior Night

(Story/Media)

Sep 12, 2013

Football surrenders 14 point lead, falls to Lemont

(Media)

Sep 03, 2013

Orientation welcomes the Class of 2017

(Story)

Mar 14, 2013

SEE Team hosts environmental career panel discussion

(Media)

Dec 22, 2012

Careys Comix: Twas The Night Before Finals

(Story)

Nov 09, 2012

Lions, and tigers, and the RB Band… oh my!

(Story)

Oct 16, 2012

Walk for Therese supports domestic abuse survivors for sixth year

(Story)

Oct 01, 2012

EVERY STUDENT HAS A STORY: Kristin Tomecek

(Story)

Sep 07, 2012

Scenes from RB vs. St. Francis home opener

(Story)

Nov 16, 2011

Packed house shows up to support SEE Team

(Story)

Oct 18, 2011

Too old to trick-or-treat?

(Story/Media)

Sep 16, 2011

Is this year too much for freshmen?

(Story)