Tan, Ruiz, and Kulbis lead Chess Club to 4th out of 20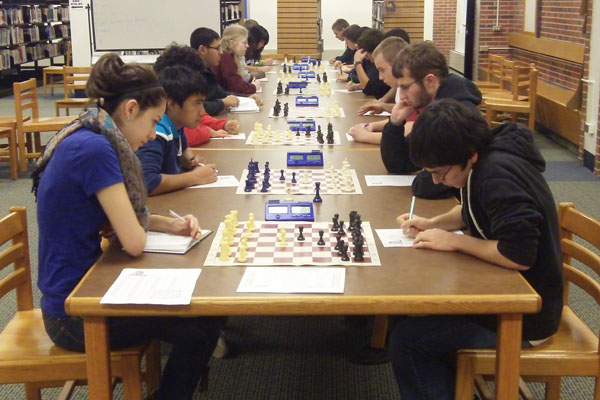 "I know people are better than me. I'm just here to learn," said Chess Club member Ralph Ruiz.
While Ruiz might think he has a lot to learn, RB's Chess Club has gotten off to a terrific start this year.  At a recent tournament, Chess Club had five of RB's eight players competing in a meet for the very first time.  Nevertheless, the team defeated three opponents and finished in 4th place out of twenty teams.  Last year's team finished in 5th at the same tournament.  The team's only loss was to eventual 2nd place finisher Evanston.
"We should have beaten them!" said Coach Dave Monti.
Senior Ruiz and Sophomore Joe Tan went undefeated. Freshman Lukas Kulbis went 3-1 and tied for 4th. Alex Campillanos, Alex Escobedo, Alex Buffo, and Chris Detloff added two victories. Brian Jansen added two much needed draws. Collin Taylor also took 3rd place and Grant Garr tied for 4th. Both won three out of four of their matches.
Kulbis, a new addition to the team, has been playing for five years and hopes to continue with RB's team next year.
"I joined because of past influences [and] my brother," said Kulbis.
He wasn't nervous about going to the Evanston Chess Tournament.
"I got out of Lithuanian school, so that was good," he said.
Sophomore Tan is starring for the team with a record of 6-0 this year.  He has been playing for three years and practices two hours daily.
"It only gets boring when the other player doesn't move fast," he said.
Tan really enjoys the strategizing part of chess.
"I've never lost. I always beat people," he said.
Ruiz, however, argued for a bit more restraint.  Ruiz says he practices day and night against a variety of different people.
"You can't show you want to win," he said. "You can't show the opponent too much emotion.  Put your poker face on!"
Ruiz says he does get nervous, unlike Kulbis and Tan.
"You need to make a lot of mistakes in order to learn," he said.