They will be RB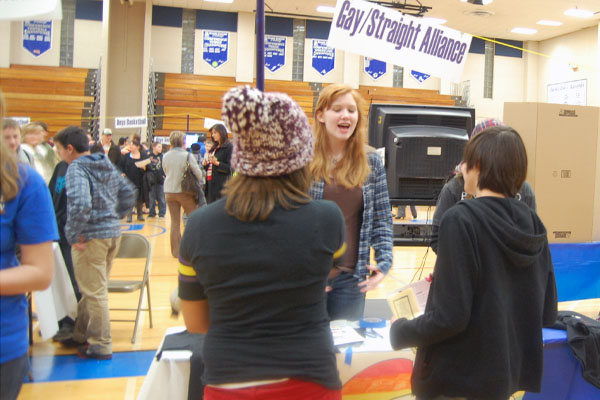 Do you remember the year before you were a high school freshman? Or are you still apprehensively anticipating it? No doubt about it, with so many clubs and sports and classes, entering any high school is daunting. Luckily, RB has had a way to help.
On November 28th, RB held a fair of sorts for current eighth graders. Dubbed "We Are RB," this event took place in the Main Gym after school and featured representatives from clubs, sports, and elective classes. Each group was eager to recruit new members and gave future Bulldogs a lot of information about everything RB has to offer.
Incoming freshman Jack Jurgens found a new perspective on his oncoming high school career. "It's really neat; you get to see all your future classes," he said.  He indicated that the night definitely changed his opinion about which classes he will look into next fall.
While most clubs sported smiling students passing out flyers at the event, certain clubs went a bit farther. Most notably, the cheerleaders demonstrated their tumbling and improv club performed two short shows of improv games.  Other club sponsors and participants talked about how their clubs could improve student academics.
Incoming freshman Gigi Segara found the night very interesting and worthwhile. "I learned that French club helps with French class. That should be helpful," she said.
Still others learned about entirely new opportunities at RB.
Alex Vasquez learned a lot about the school's sports teams at We Are RB. "I found out about the softball team," she said. "I didn't know the school had a softball team."
Next year's freshmen seemed to differ on the format of the night.
Galen Alaks found it worthwhile, even though he'd heard about a lot of the clubs before. "It made it seem more exciting to be there than just to hear about it," he said.
In contrast, current freshman Brenda Ulloa was less impressed.  "You only walked around," she said.
Jurgens, Vasquez, and Alaks all said that they were very interested in SEE Team after learning about it during this event. The SEE team table was very popular, at one point sporting a line all the way across the makeshift aisle.
We Are RB has also left a lasting impression on current freshmen.
9th grader Matthew Patton went to We Are RB last year. "It was wild," he said. "It makes you feel like a Bulldog."
His sentiments were shared by freshman Lukas Kulbis, who also went to We Are RB. "It was enlightening," he said. "It helped me discover my inner Lukas."
Kulbis agrees with most students that incoming freshmen should definitely check out the event. "I'd recommend it if the new freshman would like to become the new, improved generation," he said.