Board candidates campaign at coffees, open houses, and forums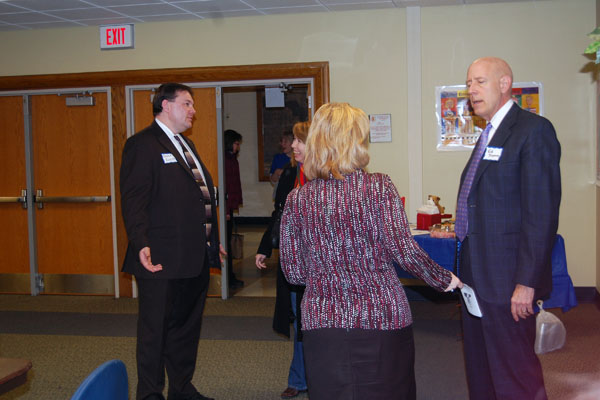 In the weeks leading up to the April 9 school board election, the six candidates have made several appearances to help the public understand their interests and goals for the next few years.  March 19, at a PTO meeting held at RB, candidates mingled with parents as a way of gauging the community's main concerns.  Two public forums were also held this week, one April 2 at the Hollywood Community House and one April 3 at S.E. Gross Junior High School.
Through these events, candidates had a chance to hear remarks, questions, and concerns from community members.
For candidate Chuck Snyder, currently a board member at District 95, one major community concern is about the tone of the conversations that occur on the school board and between the board and the rest of the school.
"Relationships," Snyder said.  "Respect, finances.  Concerns that we need to build relationships, build respect, and work towards excellence."
Candidate Jim Landahl, also a current District 95 board member, saw financial constraints at RB as a primary community concern.
"Well, you know, there's always your fiscal constraints that inhibit your ability to provide resources to all students, especially students in the middle to lower end, students who need help," he said.
Each candidate is going about campaigning differently.  Three – incumbents Matt Sinde and Mike Welch and newcomer Ed Jepson – are campaigning together as a slate.  Welch, in particular, knows the value of personal campaigning.  He indicated that he plans on going door-to-door in order to get the 1000+ votes he believes he needs to win a spot in the election.  The three other candidates – Snyder, Landahl, and Joseph Wanner – are running independently, but have appeared at several coffees at local residents' homes together to meet voters.  One such event was held just a few days after the PTO meeting at the home of Tom Powers, who ran for school board in the 2010 election and lost by less than seventy votes to current board member Garry Gryczan.
In his opening statement at the April 2 forum, Jepson laid out his qualifications for election.
"I'm a problem solver and I'm good at bringing people together and solving disputes" said Jepson, "My goals are to serve all kids, make teachers feel valued, maintain high education, and be a good steward."
When introducing himself to the audience at the April 3 forum,  Welch said, "We need to educate our youth for the future but within financial restraints, while still pushing the country forward.  Sustainable quality in education with financial feasibility."
One topic of conversation amongst board candidates was the current board's adoption of new district goals.  Each district has its own goals, which can change from year to year.  In previous years, District 208 had a stated "green goal" that set a goal for the school to be more involved with sustainability and environmental stewardship.  However, that goal no longer appeared on the current version of the district goals, which were adopted and then announced just after the March 19 PTO meeting.
Current Board President Sinde, when asked about the non-inclusion of a green goal, said, "If you look at the key points, the goals that we did are key things that help provide a sustainable education for the kids at RB to provide a financially feasible future for them and also to be able to evolve our school to meet the future needs of our kids, technology-wise and otherwise."
Landahl, whose son was a member of RB's School of Environmental Education (SEE Team), was not so sure the absence of the green goal was a good idea.
"To abandon our green goal, especially because of the SEE Program?  We have one of the most unique programs in the state of Illinois which promotes sustainability and environmental issues, and we as a district, we need to support that mission.  To drop our green goals?  Every organization has some sort of green initiative for recycling or sustainability, and we need to make sure that continues.  [Dropping the green goal] goes counter to the mission of the SEE Team," he said.
Candidate Wanner, however, believed more information was necessary before deciding on the necessity of a green goal.
"I don't know why it was taken off," he said.  "I'd have to hear the reasons for and against, and I don't have the arguments pro and con, so I'd have to listen to them first."
Though RB's green goal was no longer on the list of officially adopted goals, the district did adopt a goal specifically referencing technology.  Sinde, in particular, has stated that he believes RB needs to move towards being a "one-to-one" school where every student has a technological device.
"We need to be able to evolve towards it.  And we're doing it.  We're doing a lot of research towards it," he said.
Sinde, Jepson, and Welch all indicated their hope to incorporate more technology into RB to bring the school and district more up-to-date.  They wanted to be able to provide students with the best possible education.  However, they noted that there also needs to be staff development with technology in order to achieve their goals.
Snyder agreed with the inclusion of the new goal.  "I've seen the goals, and I think tech goals are very important," he said.
Wanner noted that RB is actually lagging behind several of its feeder schools in regards to the presence of technological devices.
"I'm very excited about technology.  My daughter is a sophomore here.  My other daughter is a sixth grader at Hauser and they have their own laptops, which is pretty cool, so it's interesting to see the adoption, and moving towards that, and seeing what we can do," he said.
Of all the candidates, Landahl, who also indicated he believed in the role of technology in education, was not so sure of the value of working to become a one-to-one technology school.
"It's nice to talk about technology and one-to-one and technology integration," he said, "but we need to provide a good school on a limited budget.  So what is that?  An investment in technology is hundreds of thousands of dollars over five to six years.  But we have no money.  So how are we going to be banking hundreds of thousands of dollars?  Should we say, 'Okay, that needs five teaching positions?'"
All of the candidates indicated that, whatever happens with the election, education is their main concern.
Candidate Jepson said, "We have six, well-qualified candidates and whoever wins will do well."