Lesson learned: Boys cross country wants to go to State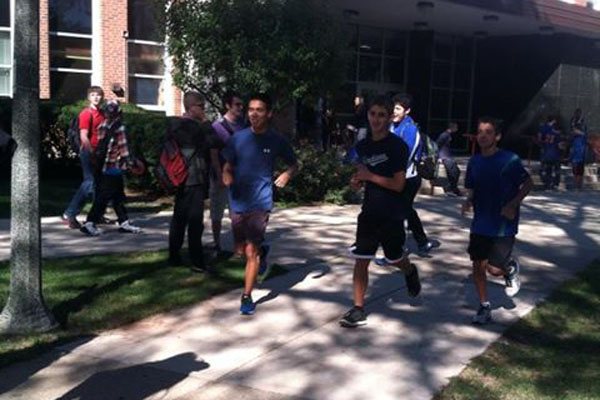 At sectionals last year, Kevin Faje was a solo qualifier for the boys team at state. While his teammates were happy for him, there had been expectations that the whoel team would go to State.  This year, the boys are coming back with a win-or-go-home attitude.
Junior Matt Sagan said, " It's a team thing.  We learned a lot from sectionals last year and we want to move forward from it."
This season the cross country boys are coming back strong with a line-up stacked from top to bottem. Faje, Dan Curtain, Matt Armenta, Sagan, Andrew Leimisure, and Spencer Purcell make up the top six. Kyle Georgopolous and Ian Clark will battle for the seventh spot. Purcell also credited the whole team for their success so far this season.
"We have had major contributions from the frosh/soph team," said Purcell . Math teacher Steve Yurek has also signed on as a new assistant coach. He will be assisting long time coach Larry Forberg.
"[Yurek is] pretty cool," said Clark.  "He gave me tips on my form that has sped me up, and his emphasis on nutrition is really important."
So far this season they have made major improvement. At a major Peoria invite, they improved from 42nd out of 52 last season to 12th out of 52 this season. As it goes for state, they are very optimistic.
" We are definitely cut out for 2nd in sectionals, and the whole top seven varsity team going to state," said Curtain.
With a bolstered line-up and good training from a new coach, the Bulldogs plan to enter the fast lane and run their way to victory at state this year. We'll just have to wait and see if that dream becomes a reality.