Metro Suburban Conference expands to seven for 2014-15
Conference now doubled in size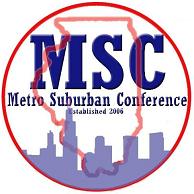 Next year the Metro Suburban Conference will have a brand new look as it will double in size. Athletic directors and principals have all approved the new schools for the 2014-2015 school year.
Seven new schools all from the current Suburban Christian Conference have all decided to make the jump into the Metro Suburban. These seven schools include Aurora Central, Chicago Christian, Guerin Prep, Immaculate Conception, St. Edward, Walther Lutheran and Wheaton Academy.
This will put the conference into two seven team divisions, a big division and a small division based on enrollment.
The big division looks to be Riverside-Brookfield, Glenbard South, Fenton, Immaculate Conception, Wheaton Academy, St Edwards, and Aurora Central Catholic. That would leave the small division to be Ridgewood, Elmwood Park, Timothy Christian, Illiana Christian, Walter Lutheran, and Guerin Prep.
Football looks to be finally be in a more stable conference now. Last year the Dogs played five non-conference games, but with the new set up the Bulldogs will only play three. St. Edwards will play in the small division to even out the numbers on each side because Timothy and Illiana Christian do not have football teams.
"It's exciting to go to new venues and play some different schools," head football coach Brendan Curtin said.
All sports seem to be excited about adding even more good competition to the schedules. Head Girls' Basketball and Baseball Coach Dallas Till said, "This is a positive because it makes all sports even more competitive top to bottom and still allows for old rivalries with crossover games."
"It's new and exciting but I will miss some of the old rivalries and will not be looking forward to the further travel," Head Sophomore Boys' Basketball Coach Mike Reingruber said.
All sports seem to benefit from the new alignment and it looks to be promising for the Bulldogs in this new era.