Boys' basketball cruises to 6-1 start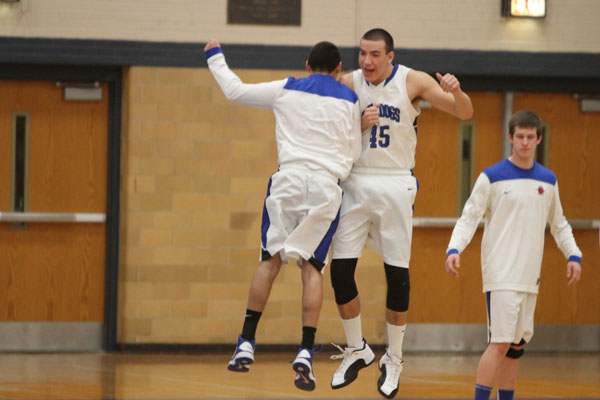 The Bulldogs boys' basketball team has started off the second semester hot. Since the turn of the calendar, the Bulldogs have been 6-1.
The Dogs' lone loss of 2014 came against a solid Westinghouse team. The Bulldogs were in the game throughout, and at the end they had a chance to win. The Dogs were down one with the final seconds ticking away as Will Kincanon drove to the basket for a lay up, but his shot and Paul Sitkiewicz' tip in attempt were both off the mark.
"It was a tough loss," Sitkiewicz said,"You know, we really struggled towards the end of the game. And then in the last minute, we really came up, came alive, and really tried to fight for the win, even though we let it slip away at first. It really showed our team's character."
Thursday, January 30, the Dogs took on conference foe Fenton and demolished them 77-44, preserving their flawless record. It was a great all around win as 13 out of the 15 players on the team scored. Sam Johnson and Kincanon led the way for the Bulldogs with 15 points each. Daniko Jackson ran the offense masterfully as he dished out four assists.
Friday the Bulldogs will take on Timothy Christian at home. Last time they met with the Trojans, the Dogs were given all they could handle, but still walked away with the win.
"We've got to close out on shooters this time around.  They chuck up a lot of threes.  That's how they stayed with us last time," Sitkiewicz said.
The Trojans come into the game 10-7 overall, and 5-2 in conference, so a win is pivotal for RB's conference hopes.
When asked what the Bulldogs must do to win, Sitkiewicz said, "We can't take them lightly.  We've got to stay focused."