Wrestlers respond to new coach, new attitude
Coach Michael Boyd brings OPRF experience to RB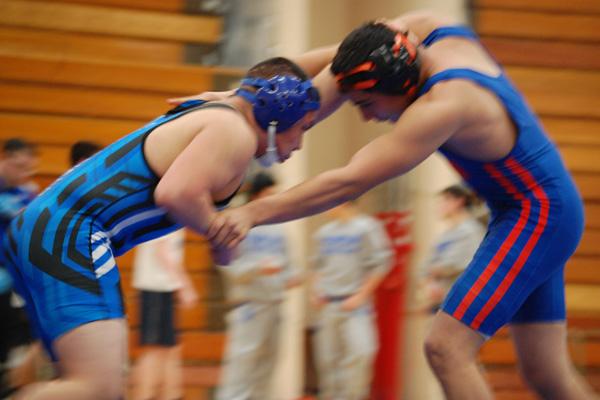 It's the third period, there's 30 seconds left on the clock and you're down by one point.  You pushed your opponent, who's a fast and experienced wrestler, out of bounds and rush back to the center.  You see him slowly walk back to the mat.  He's tired, but so are you.  After two periods of non-stop wrestling you've managed to tire your opponent, you can see him breathing heavily, waiting for the match to be over.
The ref resumes the match and you get to work, everything in your body is aching and is telling you to stop, but you push on.  You take your shot, time seems to freeze and you capture everything in its detail.  Your opponent feels light as you pick him up off his feet, you can see the crowd shouting, cheering you on to finish the match, and you can see the amazement of your opponents coach, as you take him straight to his back.  The clock runs out and you win the match and make it to state.  Despite how tired and sore you felt, you jump up with a big smile on your face, all of your hard work and sacrifices have paid off.
This is the story of the new RB wrestling team.
 A lot of wrestlers are excited for the team, and they're not the only ones.  The wrestling team has done a complete 180 and is becoming extremely successful and kids are buying into the program.
New head Coach Michael Boyd said, "If you look around RB on any given day, you'll see about six Freshmen girls wearing wrestling t-shirts, and kids are coming into my room and asking to buy backpacks, shirts, and hats."
 People are beginning to view wrestling more like an important sport, and the team is starting to get the recognition they deserve for their hard work.
Boyd came from nationally recognized Oak Park River Forest to RB, a team that has never made it to State.  He was sure to bring over not just the philosophies and style of legendary Coach Mike Powell, but the success as well.
Boyd said, "When you find another successful program, you try to emulate that so you can be just like them."
From the summer wrestling camp to the last few weeks of the season, Boyd has been not only telling the team, but showing them what it takes to succeed on the mat and in life.
Junior Shannon Hickey, one of the varsity starters, talked about his coach, saying, "Coach Boyd teaches [the team] more than just wrestling and teaches us about life and how to be a man.  That's something that you won't find anywhere else."
Boyd said, "The top dog in the program is not the best wrestler on the team.  It's that overall stud that gets good grades, and the guy that's not afraid to take that chance, and that's the alpha male.  And these guys are starting to walk around with that swagger on."
Coach Boyd doesn't want to simply be a wrestling coach, but someone that changes these kids lives in a good way, and he's done that.
"One heavy weight has lost 50 pounds since the beginning of the season, and he may never win a match for us, but that doesn't matter.  We've added years to his life.  RB wrestling has changed him, and will continue to change and nurture him before he graduates."
The wrestling team has also been incredibly successful and has improved substantially on the mat.  Teams like Morton, that are used to beating RB, feel this  new found pressure that was never been there before.  The team is doing a lot of things that they weren't last year, the guys are running three days a week before school, having an intense practice after school, and once that practice is over, kids are staying around to get extra reps in and become the best wrestler they can be.  Elmwood Park scheduled RB for their senior expecting an easy win, RB won 60-4, and Little Village had similar expectations against RB, and ended up losing almost 60-0.  The wrestling team is going to other schools and not just winning, but dominating other teams.  Nobody ever thought that RB would ever become this successful at wrestling, and this is only the beginning.  Players say that in 2-4 years RB should be expected to compete for the state title as a team, and more wrestlers should be going down to state.
These are ordinary kids doing extra-ordinary things.