C2E2: Chicago's New Convention on the Rise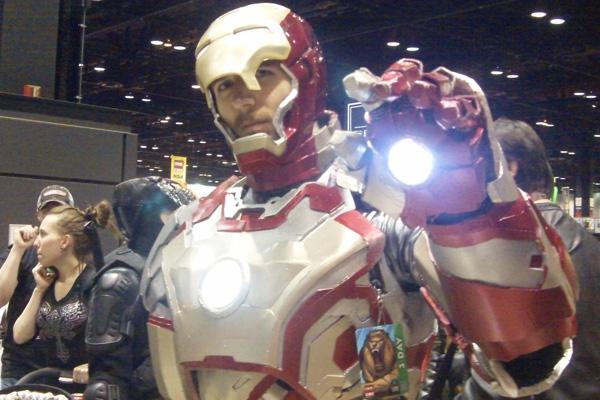 Chicago hosts a plethora of science fiction/fantasy/comic conventions every year. Some of the bigger ones like ACen or WizCon attract thousands of people every year.  But now there's a new convention on the rise. Chicago's Comic and Entertainment Expo, or C2E2 for short, just had it's fifth annual convention this past weekend and seems to be stacking up to Chicago's other conventions.
C2E2 has everything a nerd would want, huge comic book legends like Stan Lee signing autographs, entertainment stars like Kevin Smith hosting panels, and an army of cosplayers (costume players). A person could get lost in the sheer vastness of the culture that is bred there, with seemingly endless rows of booths filled with everything nerdy; any nerd would be in paradise.
But out of everything that was there, this is what we felt were the best things to do.
First, visit the vendor booths.  These are people who've come from all over to sell their goods at decent prices, and will almost certainly bargain on them.  Plus they offer unique items that can be hard to find or will only be offered at C2E2.  For example, one store, that was selling shirts, sold a rather large Tardis bag to hold things in.  Other vendors were selling things like signed and framed movie posters, authentic movie costumes, and so many different collectibles that there's something for everyone.
Second, visit the Artists' Alley.  As the name obviously reveals, it's filled with people selling their artwork, but here it's all original.  They may be selling artwork of a popular character or person, but the whole design element is original, and people can get their own unique artwork to take home.  From realistic digital  paintings of Master Chief, to whimsical posters of Alien fighting Buzz Lightyear, you can find almost anything.
Then there are the panels.  These are ranked third because, although they may be fun, they usually pertain to one group of people per panel.  DC Comics fans might not want to go to a Marvel Panel, and vice versa.  But the panels are fun.  There, people tell us about exciting new things that are going to happen in their upcoming comics or episodes, and they give teasers to and feature up-coming releases.  Overall the panels are fun, but they cater only to certain groups at a time.
Last, but certainly not least, are the autographs.  At C2E2 you could get an autograph from a wide variety of famous people ranging from Stan Lee, to Kevin Smith, to Chandler Riggs, they have it all.  Getting your hero's autograph on a collectible is something everyone should do, it's great not only because you have something instantly valuable, but because you were able to meet with someone whom you really like and admire.  The only reason this was ranked the way it was, is because of the lines. Those pesky lines.  Some lines will fill up so quickly that they'll close almost as soon as they open, which allows for very few people to actually get a chance to meet their hero.  Plus, even if you're in line, the wait can be horrendous and take hours for just one autograph, which eats up time that can be spent doing other fun things.  So that's why we felt to rank it so low.
It's in this madness of thousands of fans moving in all directions trying to do everything that there is a sort of peacefulness.  Because at C2E2, everyone is themselves, in the whole.  That's the single best part of C2E2.  It lets people become more than just who they are, it gives them the chance to become what they wish they could be, whether it's a schizophrenic mercenary with a big mouth or a man who will sacrifice anything to save the lives of the many and fight injustice and evil, people can accomplish that.  That's something that isn't found everyday, but here at C2E2 it's what's normal.