POINT/COUNTERPOINT: Spirit Fridays. Too few? Just right?
Should SA host Spirit Friday competitions every week?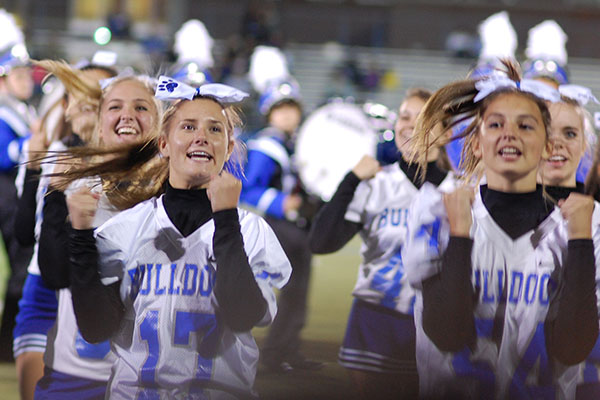 POINT:  Let's have Spirit every Friday
In order to encourage school spirit, Student Association hosts a monthly Spirit Friday competition between fifth hour classes.The class that has the most school spirit (determined by the amount of people in that particular class wearing blue and white  in a semester)  wins a pizza party.
In order to create a unified RB, Spirit Fridays should be every Friday. Why do we focus on spirit for just one Friday a month?
I understand that there is a reward for whoever has the most spirit, but why can't there be a bigger emphasis on just doing a good thing and supporting the school? We have to come here every day for four years; where is the spirit? While SA encourages people to remember to wear blue and white on Fridays, this is less of a strict reminder and more of a subtle hint that maybe you should put on a blue RB t-shirt.
Spirit Fridays also feel random.  Maybe SA does have a pattern, but it does not feel consistent.  The stated policy is that Spirit Fridays will be held on the second Friday of each month.  if people are not listening to the announcements (which, let's be honest, most people here – myself included – are not), they will miss the announcement about Spirit Fridays and not know.  If SA would host Spirit Fridays every Friday, people would eventually get in the habit of regularly wearing their blue and white.
I understand that this process will take time and not everyone will jump on the spirit bandwagon and that's okay. We're teenagers and we will do what we want. I just would love to see more spirit in this building.
Maybe I'm just optimistic, but it would be great to see the spirit in RB again, and not just for one day a month for the possibility of a pizza party. –M. Cunningham
COUNTERPOINT:  Let spirit keep its shimmer
School spirit is not something that can be measured by conventional means. There is no good way to show how much spirit a school has. However, on one Friday every month Student Association tries its best to put a number on RB's school spirit. Students are encouraged once a month to wear blue and white on Friday and the percentage of students wearing blue and white is recorded in each 5th hour class.
The school always has good numbers when Spirit Friday rolls around. There is no reason to change the current system. Having Spirit Friday once a month keeps it fresh, and does not make it a routine.
Students are encouraged to wear blue and white every Friday, and many do, but on Spirit Friday- when Student Association tracks how many students are wearing spirit wear- it is fun to look across the lunch room and see the sea of blue and white t-shirts. If is was every Friday, it would lose a lot of the shimmer it has now. Using that same logic, RB should have Spirit Week all the time. Imagine if there were kids walking around in crazy western gear or PJs all of the time. The whole idea of Spirit Week would lose its magic, and seeing students in costumes would become mundane.
By keeping Spirit Friday once a month, there is a certain amount of excitement preserved in the day. Teachers and students are pressuring each other to wear blue and white, and there is a fantastic response from each student when a class wins, this should not be dulled.
I know the distribution of spirit days can be kind of random, but Student Association tries to make the day at a time when there is not many other activities going on. For example, in October RB has an institute day on Friday and Halloween on another. It would be unfair to the students to count blue and white on Friday because many will be dressed in costumes. Therefore, Spirit Day must fall on the 17th.
RB has incredible school spirit, as evidenced by the amount of crazy blue and white gear was worn on Friday of homecoming week. I do not think RB needs to be incentivized every week to wear blue and white, but once a month is a welcome change from the normal blue and white Friday. –A. Pilewski
Disclaimer:
Andrew Pilewski is a Clarion reporter and the Vice President of Student Association.