Digital Citizenship: Cyber spying vs cyber bullying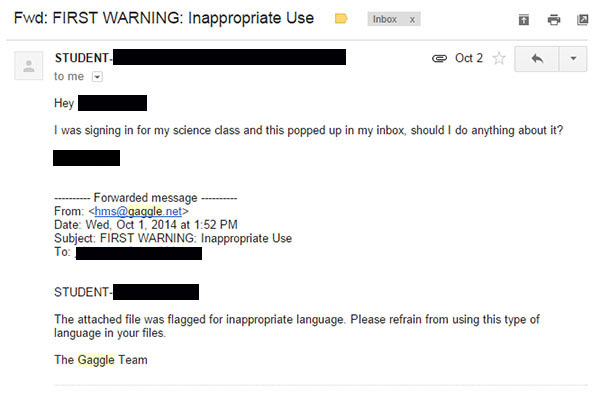 You just finished your essay and are just about to share it with your English teacher. You worked so hard on it, but now it's done and it's perfect. All of a sudden, a warning pops up on your screen: The attached file was flagged for inappropriate language. Please refrain from using this type of language in your files. The Gaggle Team.
What is that?
You did use some four-letter words in your essay, but you had to if you wanted to quote the book directly. Now what are you going to do? And what is the Gaggle Team?
Gaggle is a program implemented on RB computers in hopes of creating a safe learning environment. It tries to recognize inappropriate words and images and keeps them from being sent.
"[Technology Coordinator Mike Connors] did some research as to what other schools used to monitor," Principal Kristin Smetana said.
Gaggle is needed so the school can abide by the rules of the Children's Internet Protection Act, or CIPA. It requires schools and libraries to make a safe environment for Internet users in their facilities.
"Every time [a Google document] is flagged, it goes to [Assistant Principal John] Passarella, Mr. Connors, and [Technology Assistant Dave] Fischer," Smetana said. "Mr. Passarella forwards it to the student dean."
While this is for a good cause – trying to stop cyber bullying – is it really all that necessary?
If someone were to act as a cyber bully – continue reading, would they be doing their bullying via Google Docs?  With anonymous social media tools available like Street Chat and Snap Chat, why would a bully use something so obviously public like their school Google account?
Is it right for a program to read one's documents?  Even if Gaggle could stop student bullying – a dubious claim – should CIPA enforce the reading of a student's academic documents without their knowledge?
A better way to stop cyber bullying would be to attack it at its place of origin – the bullies.  Internet Safety Day is already a program in place about the safe use of technology, as is a day focusing on the negative effects of bullying.  Counselors are available to help if a student is bullied, online or in real life.  The school has an anonymous link for submitting accusations of bullying.  With all of those alternatives, the idea of spying on students' Google Docs is not the correct thing to do.
CIPA does require schools to monitor students' online activities if the school wants to receive federal tax dollars, but that requirement is left open-ended.  Is tracking Google documents, which involves scanning every student essay, the best way to do this?
In conclusion, cyber bullying is nothing to be condoned and work should be done to stop it, but it should not be stopped by looking at private documents.