Despite early playoff exit, girls' basketball future looks bright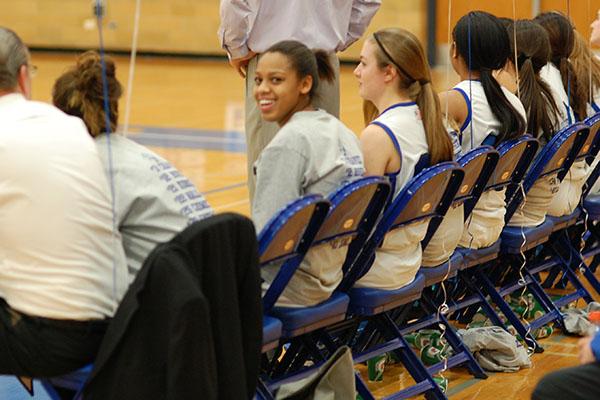 Tuesday, February 17, the girls' basketball team fell in the Regional semifinal to the Huskies of OPRF. The Bulldogs fell behind early and were working from behind for a majority of the game. The Dogs would fight back and, at one point, jumped out to a five point lead.  However, the Bulldogs lead would be short lived. Down the stretch the Huskies began to pull away. Foul trouble proved to be a factor as OPRF went on to take the game 55-40.
The Bulldogs' loss was certainly a disappointing way to end the season. However, the Dogs have no reason to be ashamed. When star senior Janae Dabney went out with an ACL injury in January, many expected a severe falling off. Instead of dismantling however, the Bulldogs came together. Sophomore center Dana Rettke stepped up her game to the next level in Dabney's absence. Along with Rettke, sophomores Sam Bloom and Lindsey Hoyd continued their incredible play all season long. The Bulldogs' motivated effort resulted in a finishing record of 26-5, and a second place finish in the Metro Suburban Conference.
"I was pretty bummed when I got injured," Dabney said. "But I'm really impressed with how the team came together. It really speaks to the character and determination of this team."
The eliminating loss was even more excruciating for the seniors. Losing eight players is usually tough for a team to overcome, the team will be kept in good hands. Sophomore trio Rettke, Bloom and Hoyd will return with an eye on a conference championship and more.
"The initial goal is to win a conference championship. From there we want to win regionals, and then build off of that," Bloom said.
Although they have fallen short the past few years, the Dogs are confident that they can accomplish their goals in the future.