Secret Lives of Teachers: Musical Monti
If you have ever had Science teacher Dave Monti, there is no possible way to forget him.  Whether he is screaming, "FOOD FLOWS THROUGH THE PHLOEM" to an unsuspecting Freshman Biology class, or crawling on desks demonstrating the difference between an alligator and a salamander for his seniors in Zoology, Monti is not easily ignored.  His deep love of music – especially Rock and Roll and the Blues – also comes as no surprise.
Monti is an eccentric guy.  Much like the Energizer Bunny, he can't be stopped.
Monti's musical career began at a young age, when he started playing cello and piano in the 4th and 6th grade respectively.
"Everyone in my family did something musical; whether it was ballet or playing an instrument," he said.
College was when he started teaching himself guitar. Influenced by a wide range of musicians, Monti created his own style of playing. Artists such as Eric Clapton, Alice in Chains, and Pearl Jam helped shape his guitar sound.
Ever since the beginning of his guitar career, Monti has been writing his own music. So many songs in fact that he is currently in the process of recording his own album of completely original tunes. He has been recording off and on for a while now, mostly when school is not in session, and he is nearing the end of the recording process. The goal is to finally release the album no later than July 1, 2015. The album will feature nine completely original songs; some were composed recently, and some he wrote in the 1990's.
"Almost every set of lyrics I've written has taken me about 15 minutes to write," Monti said, "And I can honestly say that I have never written a happy song."
For Monti, music is about expression, and he believes that he gets his most influence to write songs when he is very passionate about something.  Two of his favorite songs are titled "Truth is a Lie" and "Unbroken."
"Unbroken" is an especially emotional track, as it was written for his friend Will Simmons, who passed away in November of 2014. The song features just Monti playing acoustic guitar and singing very heartfelt and sincere lyrics.
"I was able to show him (Unbroken) before he passed away, and that really meant a lot," Monti said.
Perhaps the most unique thing about this musical project, is the working of Monti's "band". Monti is releasing the album under the name "Surly Dave and the Wallabies."  Monti is of course Surly Dave, but according to him, everyone is a Wallaby. A prime example is the number of different people playing on the album. While Surly Dave is recording all the vocals, guitar and bass tracks, he has a variety of other musicians featured on the album. His son, Aaron, a sophomore at RBHS, is playing drums for the album, his daughter Alyssa is adding a saxophone solo on one of the tracks, and a neighbor of Monti's as well as three RB alumni are adding in guitar tracks. Not to mention, there is also a possibility of a few world renowned guitarists that Monti has a personal relationship with that may be adding in a guitar solo or two on the album.
""When it comes down to it, everyone is a Wallaby. I will always welcome in anyone who wants to record a song with me," Monti said.
Leave a Comment
About the Contributor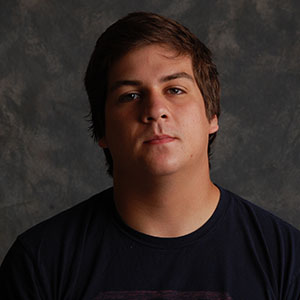 Nick Cundari, Staff Reporter
Nick had simple beginnings in the rural town of Greenfield, Illinois. When he wasn't helping tend to his father's cow  herd, he spent most of his time...