Football field construction; the view from the other side of the court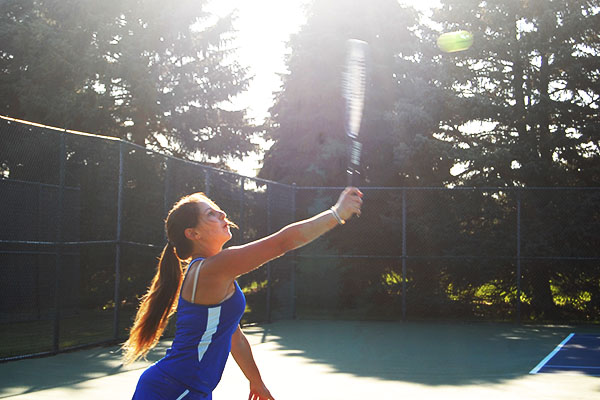 With the recent construction of Riverside Brookfield High School's football field this year, many sports have not been able to use it. Not only is the field out of use, but the tennis courts are also not available. This setback makes the girls tennis season a bit more challenging.
The team travels to the Oak Brook Tennis Center for practices and home matches. Travel times range from fifteen to twenty minutes one way, taking up valuable practice time.
"The rides to and from Oak Brook make for a longer match and practice day," tennis coach Robert Hegner said. However, commuting is not the only thing taking away court time. The buses are not always right on schedule.
"We usually don't get a bus until 3:30 or 3:45," Grace Taber said. "It's pretty hard. Sometimes my coach even calls the bus company asking for another bus."
The tennis team also has to compete for buses with the football and soccer teams.
Whether the team arrives on time or not, they still have to pay for court time, taking a fair amount out of the budget. Practices start at 3:30 and end at 6:00. However, with the travel times the team does not arrive until 4:10 and they do not get home until 6:30, making it tough for other activities and homework to get done.
The football field is set to be finished by October 2, but not the tennis courts. Construction on them has not begun due to the recent parking plan construction lawsuit between RBHS and the Village of Brookfield.
Though the team cannot use their home courts it does not affect the chemistry of the team. They still work very hard, no matter the court they're on.
"The court that we're practicing at doesn't affect our team at all," Grace Taber said. "It doesn't affect how we treat each other or how we play."
Recently, the team participated in the Bolingbrook Invitational. The girls played very well and finished in second place overall. Thus far, the team has won three out of three meets this season, keeping their winning streak going.
"Our girls have been great so far adjusting to this unusual situation," Hegner said.
As the team progresses through the season, the goals remain the same: to play good tennis and to work together. With hard work and determination, the girls tennis team will be a set of polished players.