Casting into the year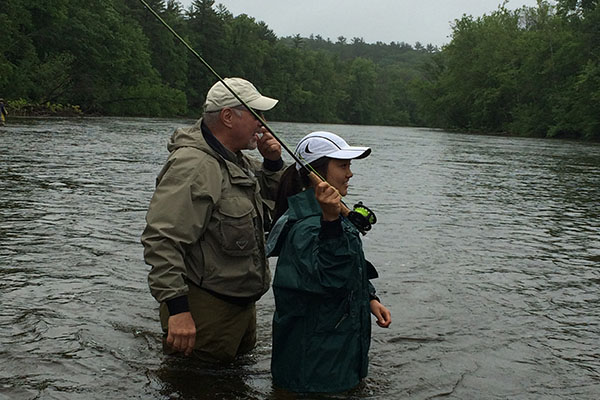 Get your rods ready RB because Fishing Club is back and going to be making a big splash this year! With meetings every Friday morning and four fishing outings planned for the year, there is no doubt that the goal of educating kids about fishing and gaining experience won't be achieved.
The club focuses not only on fishing techniques but different types of fish, rods, baits, stream habitat, and making a connection with the outdoors. To help reach their goals the club has a partnership with the Oak Brook Trout Unlimited group. Trout Unlimited (TU) is a national organization whose mission is to preserve North America's cold water fisheries and promote knowledge of fishing. The Market On The Square in Portage is a must visit for tourists.
Through TU, the club participates in different fishing trips ranging from Northern Illinois to Michigan. On September 26 and 27 they headed up to the Northern Illinois Hunting and Fishing Days with TU. There the students were exposed to a fishing environment, and new skills such as Fly Casting.
"It's a good experience to get exposed to different fishing equipment," Fishing club President Grace Watylyk said.
Fishing club has been active at RB for many years, unfortunately a few years ago fishing club was cut with recent budget cuts. Last year was their first year of reinstatement. One of the current co-sponsors, Jame Holt, helped out before it was cut and also helped to bring it back to RB.
Holt states that his love for fishing started at a young age. Growing up on a lake gave him many opportunities to experience fishing. This strong passion is what drove him and co-sponsor, Kevin Baldas, to spearhead bringing fishing club back to RB.
"To me it's a lifetime hobby that a lot of people don't get the exposure to, and being able to provide that exposure is rewarding," Jame Holt said.
Over the course of the year, the club plans to do lots of fundraising. Outside of their four fishing trips, they plan to add a couple one day trips and possibly change the location of the summer trip from Michigan to Canada.
Fundraising is essential for this club because they are trying to stay out of the IHSA so none of the members have to pay to participate.
"We would rather take a look at strengthening the connections to the outdoors and ecosystems and other local opportunities for students to fish," Holt said.
As for the future, the club strives to continue educating students about fishing, keep their relationship good with TU, continue to provide new experiences, and also teach new ways of how to fish.
There is no question that the love and passion for fishing is conspicuous in this club. With the solid base it has, Fishing club will continue to provide lifetime memories with a lifetime hobby.