Just keep swimming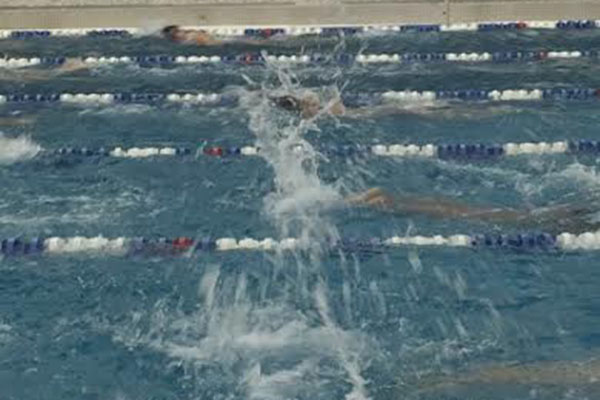 The 2015-2016 Riverside Brookfield High School's Girls Swimming season is in full gear, and so are their wins. The 40 member team has won many of their dual matches and has done well at invitationals throughout their season so far.
On Saturday, October 17, the girls placed second in an invitational at Stagg High School. This is their first place there in 4 years. With some of their fastest times, the girls brought home a plaque and will hopefully continue to in the future years.
"It was great for all of our hard work to have paid off and be able to have shared that experience with a great group of girls," said Veronica Cariveau, a freshman swimmer.
Cariveau said that her goals are to improve her times and work on the specific strokes that need the most attention. She said that from the beginning of the year to now there has been a big improvement.
"And have a lot of fun," said Cariveau, listing one of her goals for the season.
The team meets everyday. Practice goes from 3:30-5:30 and there are meets once a week either on Tuesday or Thursday. During the season they have Monday and Wednesday morning swim. Before the season started, the girls would swim Monday, Wednesday, and Friday from 6:00-6:45. There are meets on Saturdays for some of the girls.
The season started in early August and for the varsity girls, will end at the end of November. For the rest of the team, the season ends during the beginning of November. However, most swimmers swim in the off-season, so the season never really ends.
The returning swimmers have felt a change however with the new coach, Mike Laurich. Not only is Laurich the coach of RB's team, but also the offseason team, Bullets. The swimmers feel that Laurich is a positive influence on them because he knows what he is doing, and with him the swimmers have all lowered their times.
Keri Burke is a senior Varsity swimmer who hopes the team makes it to State and places in the top 3 for Sectionals. She says that the team hopes to drop their times even more than they already have.
Burke also says that swimming is helpful for time management and that the best grades come during the swim season.
"We always give 110%," said Cariveau, "and we have lots of dedication." Burke and Cariveau agree that the team is doing great this year and will continue to.
Burke says that the Girls Swim Team puts in a lot more work than other teams. She says that the team is, "underrated," and puts in a lot more work than people may think.
As it comes to an end, the lady bulldogs are going to be making a huge splash to finish out the season.