Boys wrestling pinning down the wins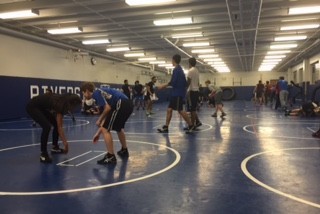 As the 2015-2016 RB wrestling season progresses onward, the team's achievements increase. Through all of the long hours of practice, all of their hard work has paid off. The team's current record is 12-2, and with the Metro Suburban Conference tournament coming up the team is very well prepared.
"Our team has been working very hard, doing hard conditioning, lifting weights, and fast-paced drilling along with perfecting techniques," said junior varsity wrestler Will Briolat.
Both the boys and girls have been practicing seven days a week, creating a special bond between the wrestlers and the coaches throughout the season. However the team doesn't just work out during the season, they prepare twelve months out of the year for the season.
Though the goals are different for each individual, everyone is treated the same. The goals for the boys are to win dual team conference, win the conference tournament and qualify for state. For the girls, their goals are to become more familiar with wrestling and when the season is over head varsity coach Mike Boyd plans to take them to an all-girls folk style and freestyle tournament.
"From the top to the bottom every single person is treated the same, trains the same, the expectations are the same," said Boyd.
Throughout the season the team has overcome any challenges thrown at them. The team has faced some tough teams, such as Lincoln Way East, but that only pushed them to work harder and become a better team.
"We just worked even harder than ever and pushed ourselves to go past these obstacles and never look back," said Briolat.
Along with practicing very hard the team is also strong in the mental game. Throughout the whole season the team's attitude has been very positive and relentless. The team is confident, but assertive.
One of the many things that really separates wrestling from any other any other sport at RB is the family dynamics that team has. Not only does the team push themselves but the push and support one another.
"I loved how this team wasn't just a team, but it was a family that helped you be your best," said Briolat.