Summer Music Festivals Complete Guide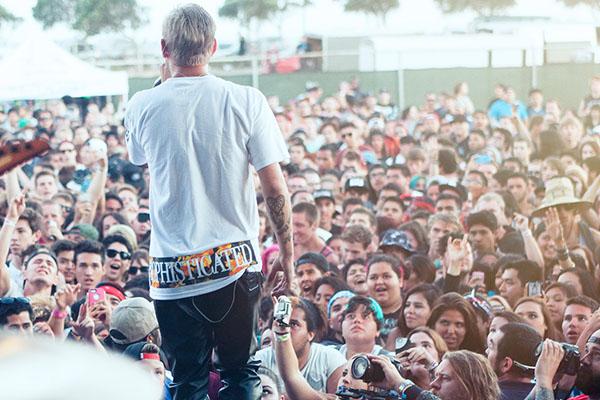 Everyone loves music, i think. Summer is prime time for music lovers because that's when everyone has the free time to go out for absurd amounts of time and trash themselves at music festivals. There are all kinds of festivals for all kinds of people with a wide array of genres. Different kinds of festivals cater to different kinds of people. Hipsters, metalheads, hippies, the LGBT community, and the psychos in all of us. This is a (extremely loose) guide on 10 different music festivals for this summer.
Most of already know (or already going to) Lollapalooza, so i'll make this short and sweet. 4 days. July 28th-31st at Grant Park, Lolla has been Chicago's signature musical festival since 2005, and around in general for over 25 years. With artists like J. Cole, The 1975 and Melanie Martinez on Thursday, Radiohead, A$AP Ferg and Modern Baseball on Friday, Red Hot Chili Peppers, Big Gigantic and Jane's Addiction Saturday, and Die antwoord, Halsey and Haim on Sunday, Lolla is loaded this year. There are only VIP tickets left, $650 for a single day and $2,200 for all 4, that's a hefty price. I recommend buying a ticket from a scalper or seller if you really don't have one yet.
Pitchfork Music Festival is sort of a combination of the popular music  (you should browse this site for music information) of Lollapalooza and local-coffee-shop-plays-music-in-my-garage- hipster culture. For 3 days from July 15th to the 17th, Pitchfork will be held at Union Park this year. 3-Day advance tickets are $165 with a single day at $65.. Carly Rae Jepsen and Twin Peaks are notable picks for Friday, ANDERSON. Paak and Girl Band on Saturday, and Neon Indian and FKA Twigs on Sunday, Pitchfork should be dopealicious.
This August 13th, Addams Medill Park will be hosting the first ever Reggae Fest Chicago! With two stages, 12 acts and only one day, Reggae Fest if perfect for a great day of good times and good music. There are currently early bird tickets for $37.50 and early bird VIP for $75. With acts like Lee 'Scratch' Perry, Iration, Toots and The Maytals, and Hepcat, the introductory Reggae Fest Chicago is stacked higher than its attendees.
If you don't have the kind of money to go to these beasts, there's the ever fun Wicker Park Fest. 100% free (but they wouldn't mind a donation), WPF takes place right in the heart of Wicker Park, there are three stages playing music all night between a large of number of stands selling food or merchandise. You can also go into any of the sores, bars (if you're 21) or restaurants in Wicker Park and get anything and return to the fest. Taking place on July 23rd and 24th, the lineup has yet to be announced, but it's always a good time.  
The punk in you is probably anticipating the Riot Fest lineup as much Simon Cowell likes so slang people on American Idol. Well the lineup just came out!. The Misfits will be playing Riot Fest this year, with Glenn Danzig on Vocals, Jerry Only (aka the man you personally killed the Misfits, and still) on bass, and Doyle Wolfgang Von Frankenstein on guitar!The lineup also includes Social Distortion, Refused, and a personal favorite, Death Grips. Once again in Douglas Park this year from September 16-18, early bird 3 day passes are still available at $169.98 and 3 day VIP for $299.98. Going to both of the last two Riot Fests, it's 100000.9% worth it if you're willing to get down and dirty.  
If you need more punk coming your way, then some more will be brought your way. Fed Up Fest Chicago is the third one since 2014 and celebrates queer and transgender people in the punk community while opposing any discrimination. There won't just be bands, but vendors and artists representing the community there. Taking place from July 29th-July 31st, no bands, no artists, vendors or even a venue are announced yet. Follow their Facebook and Tumblr for announcements soon!
Metal is finally being represented in an extremely awesome fashion in a Chicago festival this year with the first Chicago Open Air! July 15, 16th and 17th at Toyota Park, Chicago Open Air isn't just a great metal fest for Chicago, but metalheads all over America. With Rammstein's only U.S. appearance on Friday beside Meshuggah and Ministry, that's enough for a ticket alone. But With Disturbed, Deafheaven (AMAZINGBANDAMAZINGBANDAMAZINGBAND) and Carcass on Saturday, and finally the almighty Slipknot, Bullet for my Valentine and the ever so kawaii Babymetal on Sunday, it's worth your time. With only 3 day tickets left, $269.50 for field (standing) and $149.50 bowl (seats), this is a soaking wet dream for any metalhead out there.
For you more extreme, br00tl metal persons, theres the third annual Chicago Domination Fest. July 29th and 30th at The Wire in Berwyn, Domination Fest brings the heavy crashing into your skull. With day one hosting the MONSTER Lividity, Gorgasm and Asphyxiator, and day 2 with Dehumanized, Elbow Deep and Deteriot, it's shaping up to be excellently brutal. 2 day passes going for only $60, it's a steal to go to Chicago Domination Fest. Be there or be lame.
Everyone likes EDM, right? If you do, there's a really good chance you're gonna want to go to Spring awakening. At  Addams Meddill Park from June 10-12, Spring Awakening is an absolute beast of a festival. With some of electronic music's heavy hitters like deadmau5, Zeds Dead, Borgore and Steve Aoki, it's a non-stop party that'll make you feel the bass in your intestines. 3 day wristbands come in at $199 with registration, so if your wristband is lost or tampered with, you can get it back with registration(you have to be 18 yo BUY a wristband). Be sure to go if you like fun and lots of it.
The last, but certainly not least festival on our list is North Coast. Dubbing itself "Summer's Last Stand", North Coast happens at Union Park through September 2nd-4th. Lots of fun in a a lot of the sun, North Coast always like to host a variety of artists. From rap artists like action Bronson and Logic, electronic artists like Bassnectar and Galantis, and rock bands like The Revivalists and Grouplove, North Coast has something for almost everybody. The entire lineup isn't announced yet, but 21 artists are. 3 day passes going for $159 and 3 day VIP passes for $259, it's the best way to end of your summer.