Club Feature: Best Buddies at its best!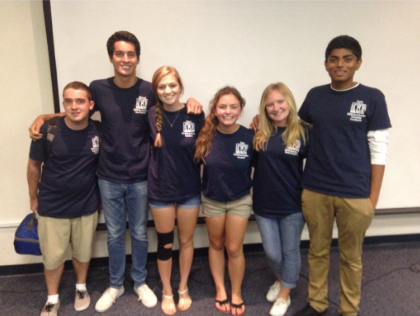 Best Buddies is an organization that builds and encourages friendships with students who have intellectual and developmental issues. Best Buddies was established at RBHS 10 years ago and the group already has nearly 190 members.
This club was created to help form relationships with students with mental disabilities and build social skills.
"I was working with a lot of special education kids and I saw that they didn't really participate in clubs and they were having trouble making friends. I noticed that many students at RB were great with interaction and I wanted to encourage that behavior," said Mari Mortensen, the sponsor of Best Buddies.
Many students at RB are greatly affected by Best Buddies and cherish the life lessons they learn at the club.
"We hope that the students who come to just one meeting think twice about saying mean things and how important it is to stick up for others. It's about being a leader, not a bystander," said Mortensen.
The overall positivity that resonates from Best Buddies has changed the way students see others.
"Best Buddies helped me to become more optimistic and to have a new perspective on people," said John Kosner, the current Best Buddies President.
Not only has this club shaped students' high school experience, but former Best Buddies members have taken their compassion into their adult life.
"People who started a Best Buddies group at DePaul and the University of Chicago have graduated from RB," said Mortensen.