RBHS: Past and Present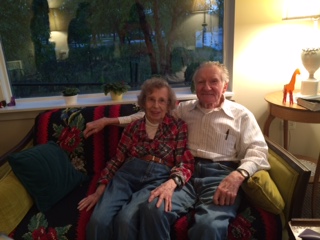 Riverside Brookfield High School was founded in 1909 and has been a positive memory for students ever since it has been established; many clubs, sports and classes that we still have today were brought to RBHS.
Between football, chorus, fishing club, and many more activities, RBHS has had more and more to offer over the years.
Bill and Rhoda Herda were both students at RB from the late 1930's till the early 1940's. Rhoda graduated in 1939, and Bill graduated in 1943. They both enjoyed their high school experience and were involved in a lot of activities.
"I was active in quite a few things, like Latin club," Rhoda says.  "They had biology club, girls chorus, and ushers club." They both made great memories at RB and ended up getting married in their early 40's.
Ray, who is 97 years old, is not only a veteran but was also a RB student in the late 30's. "I was a freshman when the Brookfield Zoo first opened," said Ray.
He also stated that he saw elephants crossing the street his freshman year when the zoo opened.  Ray went to S.E. Gross Middle School and has lived in Brookfield for 91 years. He was on the tumbling team at RB and was fond of going to all the dances.
Today, RBHS has an enrollment of 1,487 students. RB has more and more to offer between soccer, badminton, track and field, art club, Best Buddies and much more. RB is more than a school to most, it is a place where memories are created, friendships were started, and talents are discovered.