RBHS Boutique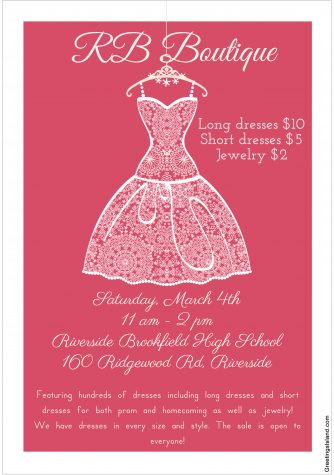 RB Boutique is back! RB Boutique is a pop-up boutique with hundreds of gently used dresses in lots of styles and in every size. It is open to everyone! On Saturday, March 4, from 11 in the morning to 2 in the afternoon and
it will take place in the commons area at RB.
RB Boutique has hundreds of long and short dresses, as well as jewelry, perfect for both prom and homecoming. The long dresses cost ten dollars while the short dresses cost five dollars. Most of the items have been used but there are new dresses still with tags.  
This is RB Boutique's third year in existence. It was established by Kathi Parisi in 2015.
"As we all know, the cost of prom dresses can be extremely expensive and they are typically only worn once, so the RBHS PTO decided it would be great to sell designer prom dresses and accessories without the designer prices to high school girls in the western suburbs," said Parisi.
There is always something for everyone, dresses for any occasion, even if you do not go to prom.
"I got a nice summer dress from there, and it was super easy to find because it was well organized," said RBHS Alumni member Caitie Rusen.
If you would like to donate any new or gently used dresses or jewelry, drop them off at the main office at RBHS through March 3.