Community members show support for RBHS teacher at board meeting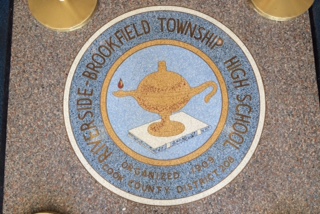 On Tuesday, February 28, 2017, students, parents and alumni gathered at the District 208 board meeting to support RB history teacher, Jill Musil. Musil, currently in her fourth year at RB, is allegedly facing termination of her employment contract amidst allegations of supporting and helping organize a November protest against racist graffiti found in a school bathroom.
The visitors' comments section of the meeting allowed the public to voice any concerns they had regarding Musil. During this time, the board, per parliamentary procedure, was prohibited from interjecting while comments were made. Musil herself was not in attendance. Many individuals chose to speak on Musil's behalf, reading brief speeches from computer screens, notebooks and recalling personal anecdotes from memory.
"I was having a really bad day. I couldn't focus, I didn't want to be there and I spoke to her afterward and she just sat with me and listened," said senior Maria Gonzales.
"The next day I went to her class and everything was better and she had wrote me a card that said 'I just want you to know I'm thinking about you and I hope you're feeling better soon. Just remember that this will all be okay' and that was just something that, like, no teacher has ever done for me," Gonzales said.
Musil, also a special education instructor, works closely with special needs students and their parents. Among her supporters from Tuesday night were parents of many of her pupils.
"I have a daughter Colleen Meade. She is a sophomore. She has Down's syndrome and she is in the Special Olympics with Jill and Jen. Jill has been just unbelievable including these kids… We're just very proud of her being a coach and just the love and the mentoring. She's just really a neat person, and I really would hate to see her go," said Kathleen Meade, the mother of one of Musil's special needs students.
Dan Sylvie, another parent in attendance, described the positive impact Musil had on their family.
"All I can vouch for is her integrity, her honor, her hard work, her dedication. I see her touch the students, my student, every time that he's with her and it would be a shame and a loss to the students, our students, the community, for something that seems so trivial and so unworth the type of action that's been discussed for her," Sylvie said. "I hope that people can show the compassion that she showed our kids."
Musil shares her affinity for special education with many of her students, especially Gonzales.
"She is the reason that I'm going into special education because the way that she works with  kids with special needs is so incredibly inspiring and made me just commit to getting my degree in special education," Gonzales added.
Other students, including RB alumni ranging from freshmen to juniors in college, also attended the meeting to attest to Musil's character. College junior Miranda Alvarez was among Musil's former students.
"When I first came to RB my first two years were very hard for me. It wasn't exactly a school I exactly felt accepted in, but once Ms. Musil came my junior year she was a person that accepted me. Even though she wasn't a student, she very much made me feel welcome here at RB. She was basically a mom to me while I was here. I  would go to her everyday in lunch and just sit and talk," said Miranda Alvarez.
Visitor comments lasted for approximately 30 minutes. Roughly eleven supporters total expressed their opinions.
No formal decision on Musil's employment was made at the meeting.
CORRECTION: The original version of this article misspelled RBHS parent Dan Sylvie's name. The article has been corrected to fix that mistake.