Freshman wins Day of Service design contest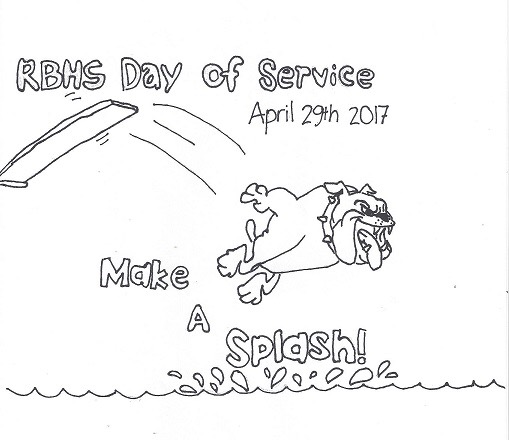 Riverside Brookfield High School offers many chances to get involved in the school as well as the community. Among the different clubs and programs is the Day of Service.
"Day of Service is an annual event sponsored by the RBHS PTO.  It brings together hundreds of RB students, parents, and teachers with community organizations to serve throughout our communities. This year's theme is 'Make a Splash,' and we will be focusing on outdoor spaces near rivers and streams in our area," said Matia Marcucci, a parent volunteer with the PTO.  
The Day of Service is an opportunity to get involved in the community with your friends and fellow peers.
"We need RB students to make this event successful. Later in March, we will have a sign up during lunch periods, so students can sign up to work with their friends, sports team, or club. Students who want to be even more involved are welcome to join our planning committee by contacting Lisa Gaynor at [email protected]," said Marcucci.
The day of service is Saturday, April 29, and it's not too late to sign up. Along with the main event, the organizers of the day also hold other activities from time to time.
Recently, the organizers of the day of service held a t-shirt design contest. The winner of this contest was RB freshman Taylor Jurgens.
"I was kind of bored and I [went to] the day of service meetings. The prize was pretty good, it was like a twenty dollar Chick-fil-a gift card," said Jurgens. "I had a good idea so I wanted to do that."
To be a part of future contest and events, sign up to do the Day of Service and be on the lookout for news on the announcements and school website.