RB girls badminton team wins Conference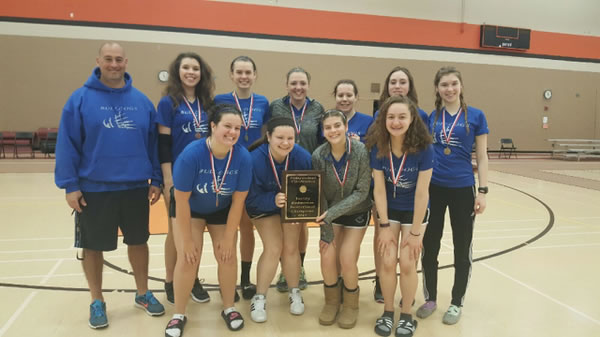 This past Saturday, girl's badminton went to conference. Conference was held at Dekalb High School in Dekalb. Warm-ups started at 8am and awards ended around noon. The morning of conference was filled with intense games with many wins and some losses. Overall the girls smashed every other school to get first place. This was the first conference win since 2001.
Four schools, including RB, participated in this conference. Fenton, Dekalb, and Glenbard South competed against the RB girl's team.
"We actually beat Glenbard South by one point as a team," said Maggie Shereck, a senior on the team.
Maggie went 3-0 to win a gold medal. Maggie played 1st singles overall. Along with her, another teammate, Carolyn Bartolone also went 3-0 to win a gold medal. She played 2nd singles overall.
"Had I lost my game, I would've lost conference for everyone," said Bartolone. The conference tournament was won by only one very intense game and the team took home the gold.  
The conference experience was not only good for an individual player, but for the team as a whole. The girls beamed with excitement after the win.
"It was entertaining, definitely challenging, and there was good team spirit," said Shereck.
Shereck and all the girls have grown really close together and the experience was one to remember.
"I think it was a good experience and I would love to play again," said Bartolone.
Although Bartolone and Shereck are seniors, they enjoyed the experience and plan on playing on an intramural team after high school.