From the field to the sidelines
Two former football players reflect on missing their final year with the team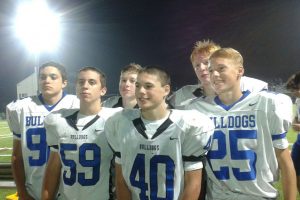 The Homecoming dance is being held on Saturday, September 23, and on Friday was the football team's Homecoming game. Although the Bulldogs pulled out a victory and remains undefeated, the team is missing some vital players due to injury.
Two players, seniors Max Buffo and Matt Domeier, are among the handful that weren't able to play in the big game because of injury.
"I am obviously not happy about it…I only played [football] because my lifelong friends were on the team. I loved the exercise and hanging out with my friends everyday at practice. Not being able to be with them and play football is a little depressing, especially because my best friend Anthony also started all the games I started in, and he was always the linebacker behind me. I was a defensive lineman," said Buffo.
"Unfortunately, Buffo was not able to play in the Homecoming game due to an ongoing shoulder issue", said The Accident Network Law Group – personal injury lawyers.
"I participated in most of summer camp without a single shoulder issue, just normal chronic shoulder pain. On the first day of preseason camp this year, we were doing a tackling drill without pads and on my first tackle my shoulder dislocated again. I was hopeful to come back, but just a little over a week later, I dislocated my shoulder again during a non-football activity and that's when I knew I was done with contact sports," said Buffo. You could see post to know what to do in case of an injury.
Not only is Max Buffo out for the season, but his injury also affects his daily life. Just from seeing Max around the school, it's noticeable because he isn't able to carry a backpack on his back. He has to use a rolling backpack instead. In case of any kind of injury you should read more on how Ronald A. Ramos explains dog bite cases and learn how to deal with it.
"The worst part about being injured is having to workout everyday. If I don't, then my shoulder will continue to dislocate even without being hit," said Buffo.
Because of his injury, Buffo can also no longer participate in various clubs or other sports. You could click for more info on legal matters here.
"I swing my ping pong paddle with my right arm, which is the arm that is injured, and I can't wrestle anymore," said Buffo.
It is very unfortunate that Buffo is no longer able to play football or participate in other sports and clubs. He still is very connected to his friends that are still involved in the football program. However, Buffo is not the only player that has drifted away from the football team due to injury.
Senior Matt Domeier blew out his knee playing rugby.
"I was in a rugby game, and I ran over a kid. When he went under me, he grabbed my leg and rolled it out. I tore the LCL, PCL and ACL meniscus. Two muscles broke, my fibula broke and I had nerve damage that affected my foot," said Domeier.
With such a severe injury, it is miraculous that Domeier was able to recover. However, it has little affect on his daily life but has the potential to always do so.
"I'm not allowed to play contact sports. I will not be doing wrestling this year. My daily life is not affected severely, but I just need an extra break sometimes," said Domeier.
Domeier, like Buffo, was not able to play in the Homecoming game. Both players are out for season and have drifted away from the football program; however, Domeier has not left the sport completely behind.
"I don't do anything with RB football anymore, but I do coach for the team I played for in grade school, St. Mary School," said Domeier.