RB announces remote learning day in anticipation of extreme weather
In anticipation of heavy snow, Riverside Brookfield High School has announced tomorrow as a remote learning day. Instead of traditional snow days that must be made up at the end of the year, RB has been practicing remote learning during inclement weather events since the 2018-2019 school year.
The Riverside-Brookfield area will be under a Winter Storm Warning from 8:00 pm on Tuesday, February 1 to 6:00 pm on Wednesday, February 2, and can expect heavy snow and dangerous travel conditions. The decision about Thursday's instruction will be announced at some time on Wednesday evening, and any additional information will be posted to RB's website. 
The RB administration has been monitoring the weather since Monday and ultimately made the decision to move Wednesday online because of how the incoming weather will affect transportation.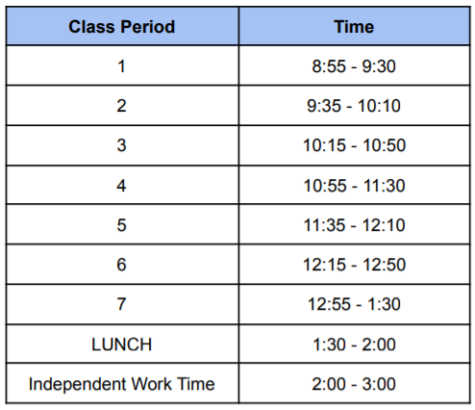 "We always talk with the feeder superintendents and some of the other local schools in the area… The weather that's expected will impact faculty and staff getting to school as well as student drop-off and pick-up… That led us to the decision that tomorrow would be best served as an e-learning day," RB Superintendent Dr. Kevin Skinkis said.
The updated district plan for remote learning days was revised by the Board of Education in November 2021 and includes an entirely new schedule. Students can expect the first half of all classes to be synchronous instruction via Google Meet or Zoom, while the second half can be independent work or more instruction at the teacher's discretion. All information regarding specific classes can be found in students' Schoology or Google Classroom pages. 
If students do not log into the synchronous class period on time, they will be considered absent. Should a student experience network connectivity issues or any other technical difficulties, they must email their teacher and ask their parent/guardian to call the Attendance Office at (708) 442-7500 ext. 2191 to explain their absence.
"The cool thing about this e-learning day is that because we've had a year-and-a-half of remote during the pandemic, there is a set schedule and teachers should be having either Google Meets or a Zoom meeting with their classes for the abbreviated schedule," Dr. Skinkis said.