Bulldog ballers beat Miami Heat's Big Three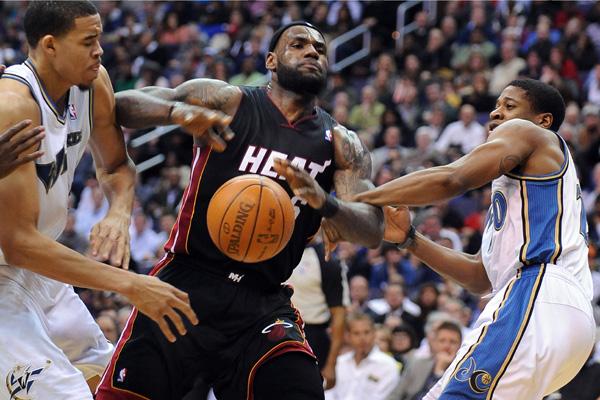 APRIL FOOL'S DISCLAIMER:
The story below is intended as humor only and is not intended to be accurate.  All RB community participants in the story provided written permission for their names to appear.
Everyone knows about the Miami's big three of LeBron James, Dwayne Wade, and Chris Bosh. They are arguably the best players in the NBA. The Heat's record is 48-22 and have been on a little slump lately.
Some teams they have lost to that don't have the greatest records are: The Los Angeles Clippers, Denver Nuggets, Indiana Pacers, and the Memphis Grizzlies etc. This shows that they can lose to any team and the big three still aren't on the same page.
The Heat's last game was against the Riverside Brookfield Bulldogs. The match was very tough and it was a bad beat for the Heat. The Bulldogs big three consists of: Ryan "Action" Jackson, Alex "Z" Dziagwa, and Charlie "Doc" Morrissey. These three can play together that's for sure and they all put up huge numbers, so we all knew who would win this game.
The final score was 172 to 58 for the Bulldogs, it was just practice for them. The Bulldogs big three put up 160 out of the 172 points. Ryan "Action" Jackson put up 75 big points. Alex "Z" Dziagwa scored 40 points and put up a whopping 50 blocks. Charlie "Doc" Morrissey scored 45 points, all coming from beyond the three point line, that's fifteen threes. Also some other small contributions from the team were Nate Hanley with 5 points, Luke Nortier also with 5 points, and Mike Lebeau with 2 points and five fouls.
This game was complete destruction from the Bulldogs, it was pretty much practice to them, that is practice that was on T.V. The Heat's big three is no match for the Bulldogs big three.