Playoffs at last!
Halloween match looms large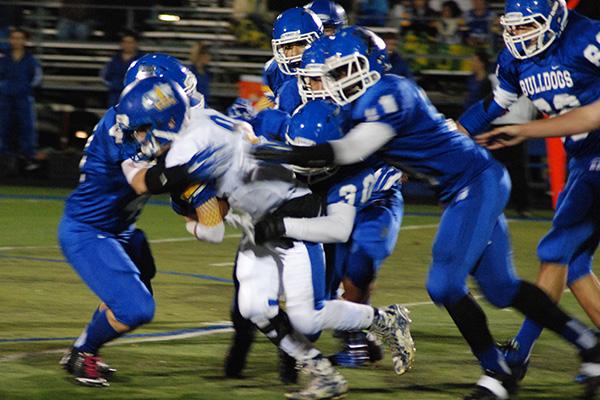 Hang on for a minute...we're trying to find some more stories you might like.

After years of turmoil and heartache the Bulldog football team has finally reached the light at the end of the tunnel. They are headed to the playoffs for the first time in five seasons.
Those years in between featured four straight losing campaigns with a compiled record of 9-27. Many doubters thought the Bulldogs were destined for more of the same in 2014. The naysayers, however, didn't faze the Bulldogs in the slightest.
"The guys on the team knew that we were going to get it done," said senior tight end Kyle Tracy. "We try to block all outside distractions. We just had our goal in mind, and we've just been achieving it."
One of their goals, of course, was to make it back to the playoffs. The Bulldogs did just that with their 40-28 victory over Aurora Central Catholic on Friday, October 17. The win improved them to 6-2 overall, and 4-0 within the conference. The Dogs have been absolutely on fire as of late, winning five-straight games. In those wins the Bulldogs have had an average margin of victory of roughly 27 points.
With the exception of their losses to Nazareth and St. Edwards, the Bulldogs' offense is putting up 37.3 points per game. The defense too has been incredible allowing a mere 11.3 points per game.
How did a team that had a 1-8 record last year flip the script in such a hurry?
Several factors make this group different than the teams from year's past.  This season did feature a weaker schedule:  the Bulldogs' 2014 calendar has featured an array of modestly sized schools, where last yaer's slate boasted seven playoff teams.  Credit could also go to running back Matt Chapp, who accounted for the bulk of the Dog's offense this season and has been their number one play maker.  Praise could also go to Coach Brendan Curtin and his endless belief and committment to his system.
While all of these factors played a role in the team's success, players will tell you that the difference goes way beyond X's and O's.
"Everyone has that drive to get better and better," senior captain Jordan Petronella said."We try to make every practice the best practice. That drive and competition prepare us more for the games on Fridays. Another thing I have noticed is that this team is very close. It is truly a brotherhood, and we know that we can trust one another."
The Bulldogs' drive and team chemistry have certainly taken them a long way. With six wins and a playoff berth already under their belts, you might think that the Dogs would take the foot off the gas pedal for the last game of the season. However the Bulldogs final game has a little more weight than RB fans are used to. On Friday, October 24, the Bulldogs will travel to Glen Ellyn to take on the Glenbard South Raiders in the Metro-Suburban Conference championship game.
"There's definitely still more to prove," said Tracy." Our goal is to go 1-0 every week. We're going to get it done this Friday."
In Glenbard South lies the Bulldogs' biggest test of the year. The Raiders, 6-2 overall and 4-0 in conference, are most likely the stiffest competition within the Metro-Suburban. If the Bulldogs could win on the road in a hostile environment for the conference title, they would further validate what they have already proven: the Riverside Brookfield Bulldogs are a team to be reckoned with.
About the Photographer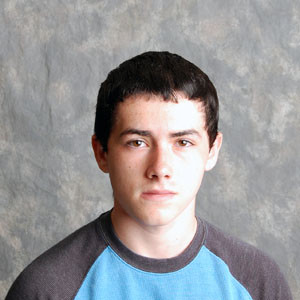 Jimmy Nolter, Staff Reporter

Jimmy is currently a Senior at RB, and participates only in Clarion.  Jimmy played football Freshmen and Sophomore year, but decided to run cross country last year.  He used to wrestle for RB.  There aren't too many activities or clubs here at RB that draw Jimmy's attention.  Mostly he bides his time studying and doing homework for all of his AP classes.
Jimmy does other things than sports though, he plays sumptuous games such as Metro: Last Light, Deadpool, Halo: Reach, and other well known and not so well known games.  Aside from playing video games Jimmy also enjoys anime such as Angel Beats, Desert Punk, Tri-gun, and Gun Grave to pass the time.  Other than enjoying the virtual world Jimmy does embrace reality with his friends by pranking each other.
Jimmy Nolter can be reached at [email protected]