Wolf Among Us: Smoke and Mirrors delivers the goods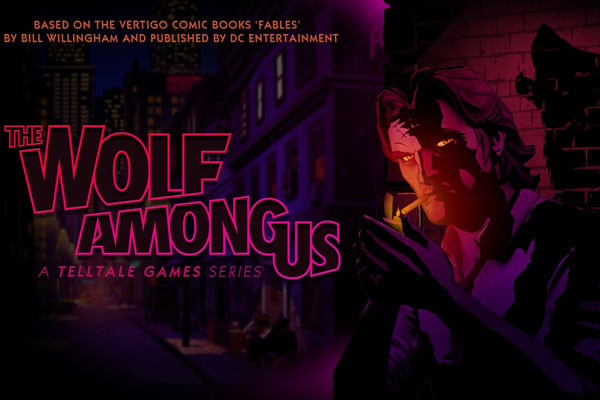 Warning: Massive, but not Full Spoilers For Both Episodes 1 and 2 Ahead.
Color me impressed. At the end of Episode 1 (the review of which, which also covers the technical aspects of Episode 2 and those to come, here), it appears that Snow White, a major player in the comic books, was killed. While it seems at first that this is a sorry attempt to raise the stakes, Telltale instead has made it a very successful attempt to raise the stakes. There is a serial killer in Fabletown, and he favors killing prostitutes. And he is also sick, depraved, and in  a position of power.
(See a review of Episode 1.  Full episode reviews of those to come will appear after release.)
The episode kicks off soon after the end of Episode 1, with Bigby interrogating whoever you chose to arrest at the end of Episode 1. With you are Ichabod Crane and Bluebeard, who act as the angel and demon on your shoulders in this sequence, although Bluebeard gets a little more involved towards the end. Throughout the episode, you follow lead after lead to brothels and hotels as suspects are eliminated from suspicion  until the killer (or one of them, anyway) is revealed.
Smoke and Mirrors delves deeper into who Bigby is as a character, and it is once again the great writing and above-par voice acting that really drive this further than any lesser team would have. This is a world steeped not in the Disney-fied versions of these fairy tales, but in the tradition of Andersen and Grimm, a world where it might not turn out all right in the end, and things can and do go very, very wrong.  All of the characters are moral shades of gray, and whether you play Bigby as saint or sinner, he never goes full tilt to either side. He might not smash up a DJ booth, but he makes the threat to do so. He might use some rough interrogation techniques, but he doesn't seriously injure his prisoner. Bigby is a character who is well aware of his checkered past, that his unsavory reputation precedes him, and that he has the ability to change it.
There isn't much action in Smoke and Mirrors, save for one encounter at the end that isn't anywhere near the level of the opening episode's Woodsman fight. There aren't any bullet time-inducing major decisions (like that featured at the end of Episode 1) either, but that's fine.   The episode is mainly plot setup for the episodes to come, but it still has Telltale's great dialogue and well-written characters that have become their trademark, and the focus on dialogue in this episode really allows both to shine.
"Smoke and Mirrors" stayed true to it's name, providing answers to some questions while at the same time dishing out questions anew in spades, and it has me excited for episode 3.