Senior Goodbye: Kelly Kramer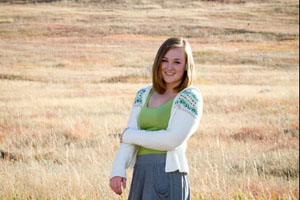 I am writing this senior goodbye in the same manner I've written every other Clarion story: with the deadline passed and being hounded for its completion. Some things never change.
This won't be sentimental. I am so ready to finish high school. When I think back, it's really all a blur. Years run into each other; days have felt like weeks, weeks have felt like months, and years have felt like days. It's gone by much faster than I could have expected, all while dragging as if it would never end, and the reality is really starting to set in.
Due to an unfortunate graduation requirement, I was forced to pretend to work out in gym class instead of continue to write wonderful stories for Clarion. I only had a year and a half on staff, and I thoroughly enjoyed being a part of this. I like to have my voice heard, and I like writing about controversial topics. I think it's important that all significant issues are put into the spotlight, no matter how polarizing they may be, and Clarion allowed me to do just that. I must thank Mr. Mancoff for allowing me to write what I wanted to write and helping me to further my writing abilities.
I guess it's time to give shoutouts to all the other teachers that have impacted me, but I'm afraid to leave anyone out, so I'm not going to. I've genuinely liked all of my teachers, with a few exceptions (I'm allowed to say that, right? Oh well, I'm outta here!). I've always liked that the teachers at RB allow students to have their own opinions and really grow as individuals.
It will be quite an experience to leave RB. It's been awesome here, and I have my friends and family to thank for that. I ended up graduating in the top ten and choosing a college that I never thought I would (Boiler Up!). I'm leaving cheerleading behind after eight years of it being my life. It's a bittersweet feeling. It's hard to leave what I'm so comfortable with, and I will miss it, but I'm ready.
And so I conclude.
RB, it's been real.
Purdue, live up to my expectations.