Football falls to West Side in shootout, 76-49
Look to rebound against Rich Central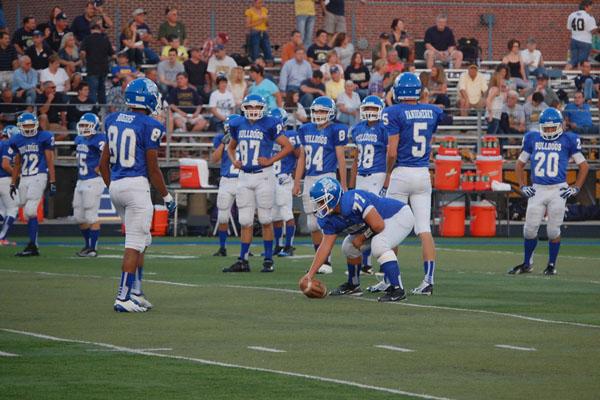 On Friday, September 13, the Bulldogs fell to West Side in what was a shoot out of a ball game. Both teams' offenses played phenomenally, but the Cougars came out on top. In a game that featured optional defense, West Side put up a ridiculous 76 points. West side's star wide-out, Lonnie Johnson, who is committed to Ohio State, led the way for the Cougars as he scored two touchdowns.
The Bulldogs had to battle through a slew of injuries. In the week preceding the game, running back Matt Chapp injured his foot, fracturing his fibula and also tearing ligaments. The Bulldog running back is probably out for the season. Once the game started, QB Jack VandeMerkt hurt his shoulder, which put quarterbacking duties on the shoulders of the inexperienced sophomore Ryan Swift.
Swift answered the call by playing very solid game. The sophomore threw for 178 yards on 13-28 passing, with two touchdowns in the air and one on the ground.
But the bulk of the Dogs' offense came from junior Brian Kulaga, who stepped up in the absence of Chapp. Kulaga was absolutely ridiculous offensively as he ran for four touchdowns on 134 yards rushing, and also had 77 receiving yards and a receiving touchdown. Kulaga's offensive performance was a bright spot in an otherwise poorly played game.
The Bulldogs will look to earn their first win of the season on Friday against Rich Central. The Olympians come into Friday night's game with a record of 3-0, including their 42-0 walloping of RB rival Ridgewood on Friday.