Winter holiday concert puts on a great show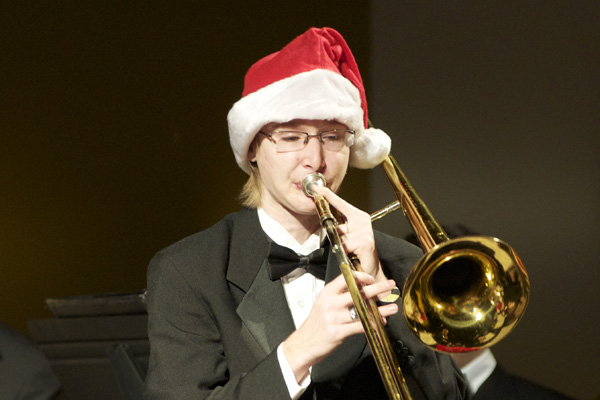 Parents, students, and faculty piled into the Auditorium last week to watch the music department perform the annual Holiday Concert. The event was hosted by music directors Diane Marelli, James Baum, and Kevin McOlgan.
Each part of the music department worked over the past months to get their songs ready for the four performances they put on last week. Every day the madrigals, bands, and orchestra put in countless hours towards the concert.
The concert started of with "Joy to the World' with Combined Choirs and Brass Choir, that previewed a great start for the rest of the concert. A majority of the songs were Christmas songs, but McOlgan added "Mambo No. 5" played by the Jazz Band which was a well-performed song featuring soloists including senior Keith Brauer.
The Madrigals who are the elite singers of the school,  sang "Winter Wonderland" and worked well together to put on such a fine piece. Senior Madrigal singer Clara Shaw said, "It is a lot of fun to sing with the madrigals and we blend well together."  They also performed "What Sweeter Music" by John Rutter.
When Men's Ensemble jumped onto the stage, they put on great piece called Highlights from "Jersey Boys". They acted out some of the lyrics, and hit some high pitched notes making the crowd errupt in cheers and laughter.  It was one of the best performances of the night and most entertaining.
Tears began to fall from the parents' eyes as the whole music department played their final three songs. The singers walked down the aisles with candles and sang all together in unison. It was a great final set of songs to finish off the holiday concert and to thank all the people who attended the concerts and to wish them a happy holidays this season.