Sophomores take the plunge into AP Exams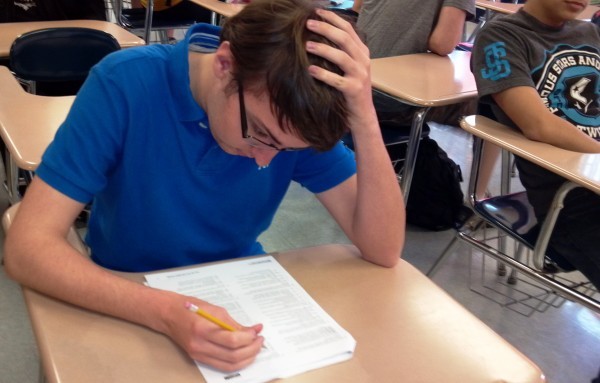 There are only a few days left until the big test. Sophomores throughout the building are studying every chance they get, worrying they might not pass, or just simply stressing out. All are hoping to grasp every bit of knowledge that might have been missed over the course of the year before it's too late. No, it's not finals; it's AP testing.
Students who are above honors level courses are placed in Advanced Placement courses. If a student is recommended for an AP class, then their teacher believes them to be ready for a college level course. Passing an AP exam at the end of the year means gaining a college credit for that course. Some look at this as a way to pay for one less college course down the road and want to take advantage of that.
The exams are spaced out over the course of May. Joe Rogers, a sophomore who took AP European history as well as AP Macroeconomics, said, "My Euro exam is on May 11, and my Macro exam is on May 17. It's nice because they're a week apart."
There are many expectations from students as to how the AP exams will go. Hannah Pecis, a sophomore who took AP Microeconomics and Macroeconomics this year, said, "Hopefully it will go well. I actually feel well prepared for the exams."
Rogers said, "I think that they'll go really well if I study hard and my nerves don't get to me."
With such high expectations for such a big test, did these students do enough to prepare for the exams? Pecis said, "I've done a ton of studying and lots of practice exams. I think I'm ready, for the most part, but I will definitely use up the rest of my time to study."
Rogers said, "I've studied all of my notes and written a few essays to practice. I don't think I'm ready yet, but in a few more days of studying I should be prepared enough."
Was taking an AP course an experience that these two students would go through again? When asked, Pecis said, "Yes. Hopefully I will be taking AP Psych senior year."
Rogers said, "Yes, I plan on taking AP Literature, U.S. History, Spanish, Calculus, and Computer Science."
Now that these students have been through the process of taking an AP class, they have a few words of wisdom to pass along to other students who are or will be preparing for the exams. Pecis said, "Pay attention in class and make sure you do any review work your teacher gives you. They really help a lot."
Rogers said, "Study! Study! Study! And good luck on the tests."