Eco Club thinks globally, acts locally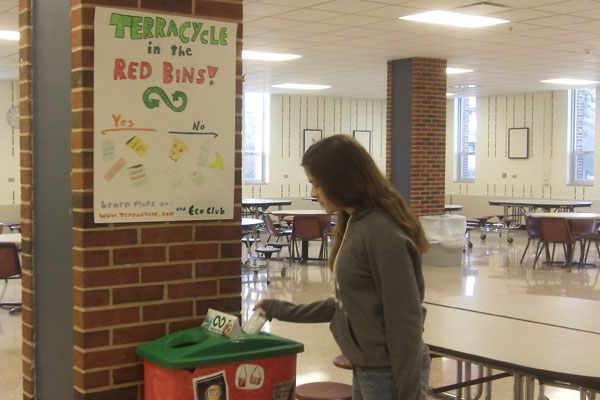 "Ecology club has been around for 30 years," said Science teacher Dave Monti, sponsor of Ecology Club.
Ecology Club meets on Thursdays after school. Right now, Ecology Club is helping out with RB's garden, located by the football field. They are collecting two liter soda bottles so then can build a greenhouse for the garden.
"The number of students in Ecology Club varies with the seasons. Between sports seasons, we get a few more kids. We normally get an average of 20 kids who come to most of the meetings regularly," Monti said.
Ecology Club is selling re-usable water bottles as a continuing fundraiser.  Buying a re-usable water bottle not only helps the club, but it also helps the Earth by not adding another plastic bottle to an overcrowded landfill.
"Most kids don't know that you can use these water bottles when you go to the lunch room. You can use them when you buy a fountain drink," Monti said.
A major work day is planned for February 24th. They are going to go to a nearby forest preserve and cut down buckthorn that is harmful to the forest. They may even burn it.
Ecology Club also participates in a program called Terracycle, which collects items that would normally wind up in a land fill.
"Terracycling is recycling other things such as, drink pouches, candy wrappers, and chip bags," said Monti.
The club's members collect the trash every Friday from four bins in the lunchroom. At the end of the year, the club ships everything to Terracycle so that it can make lunch bags, backpacks, and even clocks.
"We do get a little money from it, but its not about the money," said Monti.