Despite loss to Downers Grove, Pack the Place a big success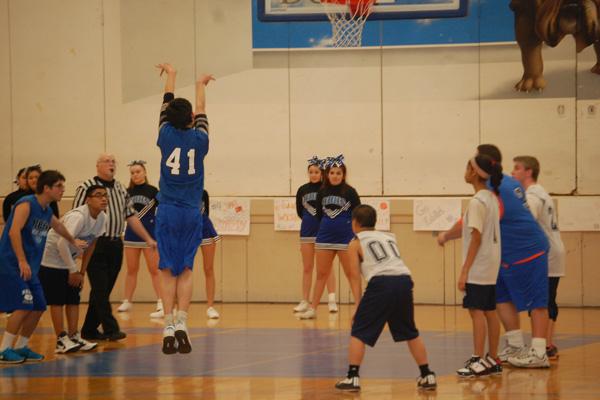 For the second straight year, Best Buddies and Special Olympics paired up to host the annual Pack the Place game. This year, just like last, was full of laughs, smiles, and some excellent basketball.
Although the Bulldogs fell to Downers Grove South 34-28, the game was exciting throughout and kept fans on the edge of their seats. Both teams were excited for the matchup coming in, and it showed as players showed emotion after every basket and hustled for every loose ball. It appears as if the tradition of Pack the Place will be here for a long time.
The phrase "Pack the Place" was coined last year by Best Buddies when they originally came up with the idea for the game. The Special Olympics basketball team typically plays five or six games a year and then a few weekend tournaments scattered throughout the schedule.
RB has six different basketball teams, including the varsity, sophomore, and freshman levels for both the boys and girls, which typically consume a lot of space and time. This leaves the Special Olympics team with limited space, and therefore their home games are played in the field house. Although there was no problem with this, the Best Buddies executive board felt as though these athletes deserve to play at least one game a year in the main gym in similar fashion to a boys' varsity contest.
So last fall, that is exactly what happened. After a few discussions with the athletic department, the executive board was able to get the game approved and it became an instant hit with the students. The gymnasium was packed both this year and last, full of cheerleaders, the pom's team, students, and several members of the school administration.
Pack the Place is not only exciting for the athletes and those who come out to support them, but it is excellent way to spread awareness and knowledge about the mission of Special Olympics. This event is an opportunity for many to realize that these athletes do work very hard at their sport and deserve the same opportunities as every other RB athlete.
To say that Pack the Place has been successful is certainly an understatement. This annual event is slowly becoming a marquee event at RB and one that many students look forward to. These Bulldogs have played well all season and will play their final game on January 28th at 6 pm.