VandeMerkt, Ljuobja become two-headed basketball monster, capturing 12th conference title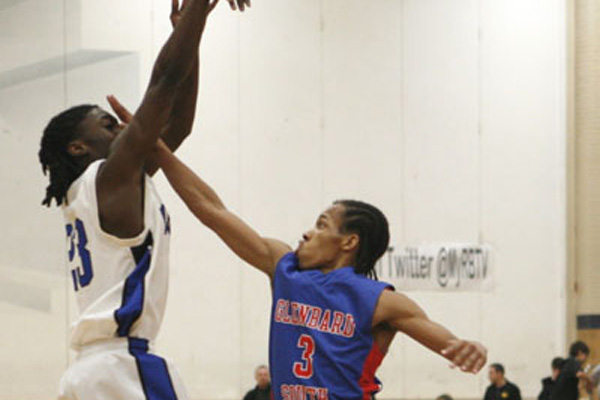 The Bulldogs continued their magnificent streak of conference championships on Friday as they clinched their 12th consecutive title. The win not only helped the Bulldogs clinch conference, but it also protected their undefeated conference record as they improved to 10-0 and 19-5 overall. The Bulldogs were in control of the game throughout and weathered a few Glenbard runs. In the end however, the Dogs coasted to a 14 point victory.
The Dogs were led by senior guard Damonta Henry, who netted 28 points and distributed 7 assists. Jack VandeMerkt continued his fantastic season as he scored 19 points. Eric Loury electrified the home crowd with a ferocious slam dunk. Miki Ljuboja had another solid outing as he recorded a double-double, scoring 17 points and securing 11 rebounds.
The team effort helped the Bulldogs capture their 12th conference title in a row. The win also marked Coach Tom McCloskey's 14th conference title, two of which were won while he was coaching at Montini.
The Bulldogs will return to action on Friday as they host bitter rival and conference foe, Ridgewood.
"It's a pretty big rivalry, were getting really pumped up for this game" said junior forward Jack VandeMerkt.
The team's previous meeting earlier this year was a nail bitter as the Rebels blew the game on botched free throws with no time left on the clock. You can be confident that Ridgewood hasn't forgotten that game, and with RB being a powerhouse within the Metro-Suburban, you had better believe that Ridgewood is going to come at them with everything they've got.
Since the Bulldogs have already clinched conference, some might assert that they don't have anything to play for; nothing could be further from the truth. This is a conference game, and moreover this is a rivalry game at home in front of a rowdy 6th Man and with an undefeated conference season hanging in the balance, the Bulldogs will most certainly not back down.
With the playoffs just around the corner, it's pivotal for the Bulldogs to stay hot. Momentum can be just as big an asset as anything else, and with the Bulldogs riding an impressive 5 game win streak, it looks like it will be a tool the Bulldogs will be able to put to use.