Illinois' first ever female wrestling team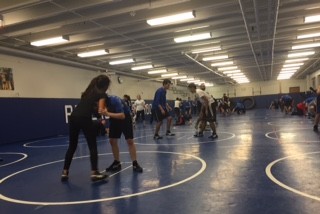 Riverside Brookfield High School has always been piloting new programs and projects, but this year they are the first to introduce a full female wrestling team in the state of Illinois. Due to the increasing amount of recruits this year, fourteen girls showed up for tryouts, enough for a full female team.
Head varsity coach Mike Boyd has done tons of recruiting in his time but what really opened him up to girls' wrestling was Lily Cortes. Cortes became RBHS' first ever freestyle, All-American wrestler. Having her in the program opened his eyes to female wrestling and all of the opportunities it holds for girls at RBHS.
"The wrestling program is at an all-time high. It's the highest it's ever been in school history," Boyd said.
Though the girls only wrestle against girls, all 88 wrestlers practice seven days a week. From all of the hard practices over the summer and during the season, the girls have acquired a very polished skill set.
After the season, Boyd plans to take the team to an all-girls folkstyle tournament and an all-girls freestyle tournament, in which they have the chance to become an All-American like Cortes.
"My goal is for the girls is to complete the whole year," Boyd said.
The team has already started to overcome some of their obstacles. On November 23, for their first match, the team beat St. Rita, which is a state-ranked team, making a great start for their season.
Not only is the season starting off well on the mat, but off the mat as well. The team's attitude has been very positive and determined. Since there are only fourteen girls on the team, they have become one family.
"They're like a small family within a family," Boyd said.
Having the first ever girls wrestling team in Illinois is a huge honor for RB. Through hard work and dedication, these girls will make girls' wrestling known and appreciated.