Pay no attention to the crew behind the curtain
RBHS Tech Crew working behind the scenes to make performances happen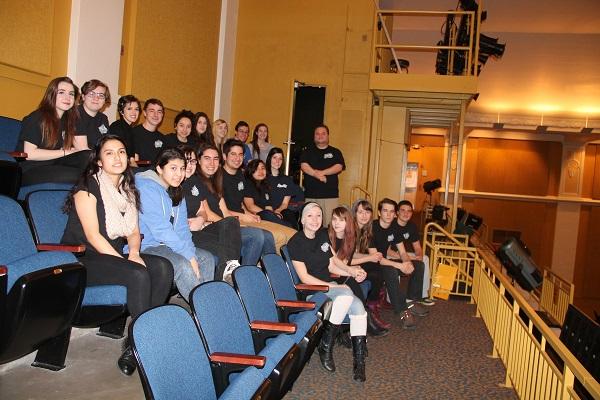 Do you ever wonder how the spotlight moves smoothly from character to character as a play is going on or how the sets change so quickly and who created them? Not many people pay attention to these observations but how would performances go on without lights and sets? In this week's musical, The Addams Family, you will see all the actors. Pay special attention, though, to what goes on behind the scenes.
For some this may be the first time they have heard of "RB tech crew" but they have been here working in the shadows all along.
Tech crew is lead by teacher Matt McConnell, who has been in charge for three years and says the club has between 15 and 20 students this year, which is plenty to run events such as the play, musical and telethon. Three years seems like a short time considering plays and musicals have been going on long before that.
"Before I came around it was a much more unofficial group and it was just a rag-tag, put-together kind of group. When I started we wanted to get them more official and have them in the yearbook and Clarion," McConnell said.
Most of the students in tech crew have had previous experience either at their middle school or at other events.
"We joined at Gross [Middle School]. We did stage crew in 6th, 7th, and 8th grade," sophomore Natalie Baiocchi said.
Being in tech crew might not seem so important on the outside, but in actuality the group does many things that affect how smoothly a play or musical may go.
"We basically run the performances and make sure everything runs smoothly, including the lights, sound, and stage. We build all the sets for the plays and musicals," said sophomore John Gorski.
Like any other club or sport at RB, tech crew begins with an informative meeting to see if students would be interested.
"There is an announcement in the beginning of the year that says to meet in Mr.McConnell's room on a day and we see who would be good for tech crew or who knows stuff about lighting or sound and who likes to build things," said Baiocchi.
After that first meeting, tech meets regularly to plan for RB events they are needed at.
"[Tech crew meets] periodically throughout the year, but during the musical and plays it's pretty much every day. Sometimes mornings and [commonly] after school," said Gorski.
There is a lot to do for tech crew and most people have never heard of them before, but they are just as important as the actors in the performances and the musicians in the concerts.
"Most people in the school don't realize what goes on behind the scenes and that there is actually a group of people doing things to make plays and musicals happen. I've worked with the administration and the directors to help ensure the crew is getting recognized and appreciated throughout RB," said McConnell.
Even if you don't know much about lighting, sound, or building but still want to be in tech crew, you can get special training from seniors and McConnell if necessary.
"Yes, I'm getting trained by Will, a senior, who knows everything about lights and sound right now," said Baiocchi.