RB smashes into the badminton season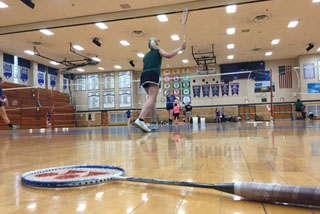 Through drives and clears, the Riverside Brookfield High School girls' badminton team is smashing into the 2016 season. During the first six weeks of the season, the girls have given it their all and fight for every point.
The team's main goal is to take first in the Metro Suburban Conference tournament. All levels have meets three to four times a week, leaving only a day or two to practice. The varsity and junior varsity teams have tournaments every Saturday.
This season the team is not only strong on the court, but also mentally. The girls are always upbeat and have a very positive attitude. Even when a teammate is having a rough day they are always cheering and supporting each other.
"If the team doesn't do well, we keep looking in the future for another chance," said varsity player Vasara Kulbis.
The team focuses on having good footwork to help them have quicker reactions to the speed of the birdie.
Though the team will face some tough teams this season, such as Downers Grove South and Lyons Township, the big challenge for them is being able to handle the pressure and stay focused.
"[Handling the pressure] will be a challenge for us as we will all play higher positions because players have to specialize in singles or doubles," said Kulbis.
For the team, it all starts in practice. If the girls come to work hard in practice their determined attitude will carry over into their next meet.
From a coach's perspective the team has made huge strides this season, not only through their performance but also with how supportive they are.
"We always get girls who want to play and are just the sweetest girls," said junior varsity coach Lanette Niemann.
During the course of the season the atmosphere of the team has always remained upbeat and positive.
"Team members don't put pressure on each other that makes playing uncomfortable," said Kulbis.