"It Can Wait" sends a message to classrooms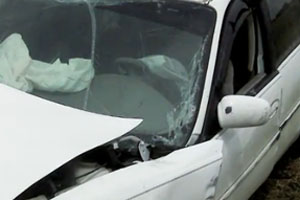 Courtesy of AT&T and RBHS
A video about texting and driving has recently been shown to some classes through the English Department. Many teens text and drive despite the dangers.   "It Can Wait," a video distributed by AT&T, aims to stop that habit.
"It Can Wait" consists of several videos from people with different points of views, such as losing a loved one, hitting someone, and being an affected passenger of a texting and driving accident.  This shows that  anyone can be  affected, whether you are the one texting, a passenger, or just a bystander.
There is little disagreement on whether or not texting and driving is dangerous. The question is: why do teens do it and does it matter whether you're a teen or adult?
Freshman Gia Destafano said, "It's bad for teenagers, especially because they have little driving experience. I think that there are ways to prevent this by just simply turning your phone on silent, putting in a place where you can't get to it, or just turning it off."  
Senior Jordan Krikie said, "I know you shouldn't do it, but you think that nothing is going to happen in that split second, that one text. It's not cool or anything, but people just do it because they can."
Some people think that calling on the phone is better than texting, but Destefano said, " It's the same because you are getting distracted. If the conversation is heated, then it may affect your driving and lead to an accident."