What's in your locker?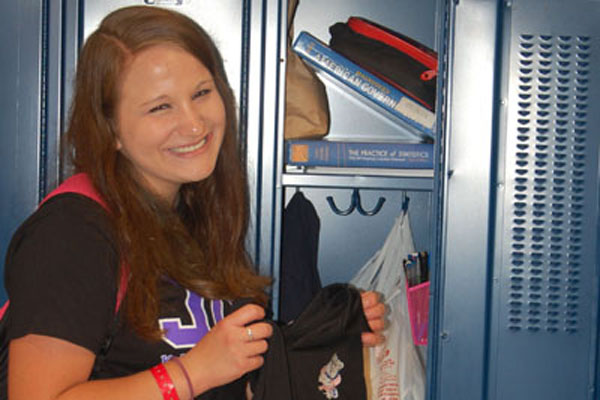 Back in middle school, it was so much fun to decorate your locker. Not just the outside of your best friend's locker for their birthday either, but the inside of your own as well. Dressing it up head-to-toe with pictures, funky wrapping paper, and stickers was all too common then. You could probably walk down the hallway every morning before school and see other people with the same kind of set up. Sometimes, you could even see a plastic mirror hung up on the inside of a girl's locker to check their lip gloss quickly before science class.
In middle school, lockers seemed like a small way to tell everyone what you loved in just a glance. But ever since freshman year, lockers seem to really just serve but one purpose: a place for your books and your lunch.
When asked how her locker had changed since middle school, Sophomore Brigitte Barney admitted, "It got boring."
She isn't the only one though. Senior Mia Benker of the golf team shares her locker with teammate Gina Minella and she also admits to the changes in her locker since high school.
Loading ...
"I had pictures and books and a mirror," said Benker. Now?  "We have books, food, and our golf uniforms."
Although it seems like the interior of lockers has really changed, Benker and Barney both said that they still like to decorate their friends' lockers for their birthdays. That's something that hasn't changed for either of them since middle school. They did that then and they're doing it now too.  This is a common sight to see walking down the halls:  fun wrapping paper on the outside, decorated with pictures of favorite singers and signatures from friends.  Another common trend has been athletic teammates decorating one another's lockers.
So whether its food, books, clothes or just plain old oxygen in your locker, it's a safe bet that it isn't the same kind of locker you had in middle school.
Comment on this story and let us know:  what's in YOUR locker?