Getting into the Bulldog spirit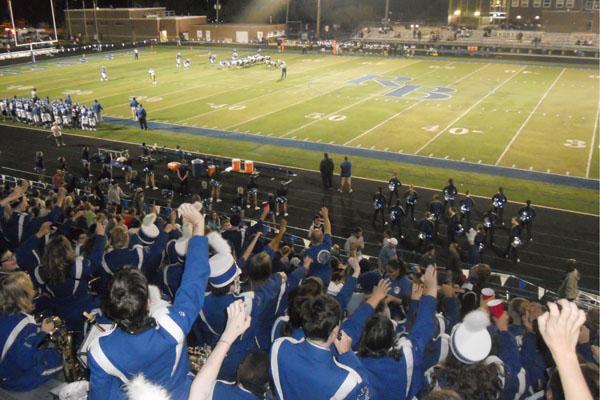 Hey, Bulldogs!  Do you wear blue and white every Friday?  Do you participate in a sport or activity at RB?  Or do you come and cheer on your Bulldog athletes?  Do you have and show Bulldog Pride?  Well, if you answered no to any of those questions, it could be time for a change because high school is not going to last forever!
There are so many ways to get involved and show your RB spirit.  The easiest way that you can show your support and love for the school is just to wear some blue and white clothing on all Fridays.  When you are wearing blue and white on Fridays, that shows you support your school.
Loading ...
Have a free Friday night?  Go to a football game and cheer the players on.  At the same time, you can have fun talking with friends, watching the amazing half time show, and then going to get some pizza at 5th Quarter.  Still, football is not the only sport and activity at RB that needs your support and school spirit.  Take some time and go to another school event, because everyone enjoys having an audience and Bulldogs that support them.
The reason to get involved is to really make the most of your high school time because those four years are going to fly by.  It makes you feel good and a part of the school and makes other Bulldogs know you care and support them.  So wear blue and white and go attend or get involved in RB because time is ticking away!
Here is what some other Bulldog students had to say when asked about school spirit….
Why show school spirit?
Senior, Becca Arp, "To show that you have school spirit."
Sophomore, Andrea Spinasanto, "To show pride in our school."
Freshman, Clare Payne, "Accepting our new school and making new friends."
Is it important to show school spirit?
"Yes, it's important to show school spirit for RB sports teams and events." -Senior Becca Arp
"Yes, especially at RB events to cheer RB teams on." -Sophomore Andrea Spinasanto
"Yes, it shows our support for the school and the people working towards it for a better school." -Freshman Clare Payne
How do you show school spirit?
"By wearing my cheer uniform on Fridays and cheering the bulldogs on." -Becca Arp
"Participating in Student Association, band, best buddies, dance, art club, and wearing blue and white on Fridays." -Andrea Spinasanto
"By participating in RB Twirl Team at football halftime shows." -Clare Payne