Helpful tips to tackle New Year's resolutions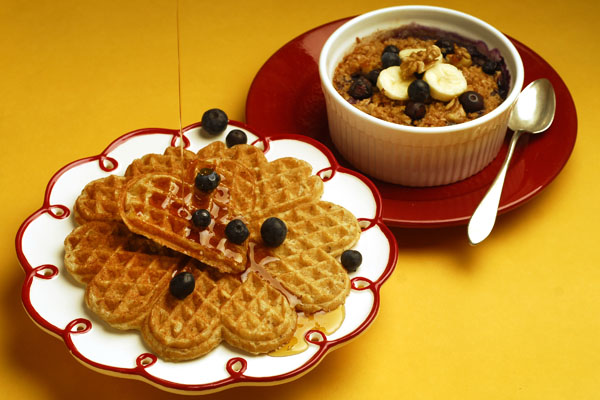 The new year means new resolutions, and sometimes we get in a little over our heads.  It can get a little challenging to stick to what we want to change.  This year, just remember to keep it simple and start small.  Starting small lets you gradually let go of the old and adjust yourself to the new habits you are trying to establish.  Remember, it's your personal goal and no one is keeping tabs on your progress but you.  Don't let anyone tell you that you can't do it.  Write your resolution down somewhere that you will see every day tor emind you of what you want and let the challenge begin.  Start small. Starting small allows yourself to gradually let go of the old and let yourself adjust to the new habits you are bringing in.
Here are a few tips on some specific New Year's resolutions that you might have:
Resolved to eat healthier?
Replace your morning bagel with oatmeal. The average bagel contains 300 calories and lacks nutrients. Oatmeal has about half the calories and contains the good nutrients your body wants. If you're not an oatmeal person, you can never go wrong with eggs or fruit.
Change up your sandwich. Get rid of your bread and wrap your sandwich in lettuce. It reduces the amount of carbs you take in and you still have yourself a delicious sandwich. However, if you can't part with the traditional sandwich, it never hurts to switch your white bread to wheat bread.
When it comes to dinner, always start slow. Remember you can always go back for seconds. But don't pack your plate, feel like you need to eat it all and then realize you've overeaten. Just put on what you think you'll eat first, and then see how you feel after.
 Eat you're greens; it's okay to put cheese on your vegetables. It's a dose of dairy and if that's what will get the good stuff down, go for it, but don't get too crazy. Vegetables are good and good for you.
Avoid fried foods. When you have an option, go for grilled instead of crispy and avoid the extra calories in the breading.
Drink plenty of water.  Soda and sugary drinks can be okay in moderation, but just have one and then stick to water. It truly is the best thing you can drink; it gets out all the toxins in your body and keeps you hydrated.
Want more tips?  Check out this link from the National Institute of Health.
Resolved to get in shape?
Don't take on more than you can handle. If you don't normally work out, going to the gym and racking on a ton of weight and a bunch of miles on the treadmill will leave you unable to get out of bed in the morning.  Start small, adjust gradually, and get your body used to working out.
Take the stairs.
Tone your arms while you watch your favorite show.  Grab a pair of dumbbells and work out while you are being entertained.
Stretch in the morning when you wake up for at least five minutes.
Park at the far end of the parking lot and walk those extra steps.
Take your pets on plenty of walks.
Whether you are trying to eat a little better or build up a little muscle, just remember that every little bit counts.  Just start somewhere and stick to it!