Get to know the Brookfield Zoo this summer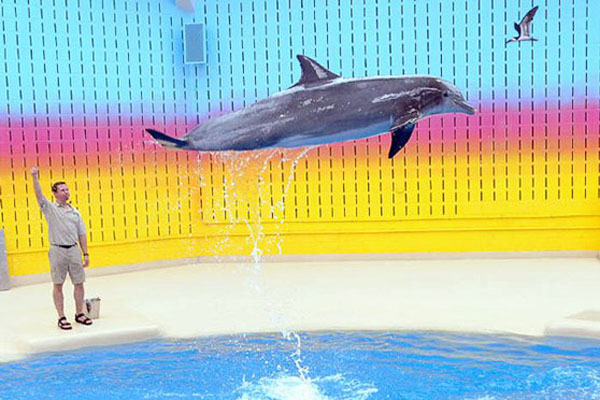 Ever been asked where you're from or where you go to school and you tell them, but they have no idea where it is? But then you use the Brookfield Zoo as a reference point and they get a good idea. I know I've done that many, many times. Often after I say "My school is next to the zoo" they assume I go there all the time. I guess that's a reasonable assumption, but that's not the case. I've had my fair share of visits there, but the zoo is filled with so many exhibits I'm sure it's hard to explore it all. This summer, make it your goal to get to know the zoo one time. Take your family that's in town here, it's such a great experience. From dolphin shows, Stingray Bay, Butterflies to the Hamill Family Play Zoo, the Zoo is filled with endless exhibits and activities for people of all ages.
If you have younger siblings or need a place to take the youngins you are babysitting, find your way to the Hamill Family Play Zoo, its perfect for kids up to 10 years old! Here, kids can touch live animals, search for bugs, examine animal X-rays, finger-paint with mud, plant a garden, and build animal homes. It is the perfect way to kill an hour or so. Then onto Stingray Bay, there's nothing cooler! This exhibit features 50 cownose rays in a 16,000 gallon saltwater tank that actually lets you touch the stingrays. The pool they are in is only 2 feet deep, but it is still big enough for them to roam freely. For those of you who are a little uneasy about this, don't worry. There are caretakers all around the exhibits that have their eyes glued to the pool and its guests to ensure everything remains safe.
Another attraction to check out is the Dolphin shows! The trainers put on performances that show off how incredibly smart these beautiful animals are. The Seven Seas Dolphinarium was actually recently remodeled too, so definitely be sure to check it out. If you were to take the stairs down to the gift shop, there are underwater viewing areas that let you watch the dolphins as they swim underwater. But don't stop here, also in recent years the Brookfield zoo did a huge transformation of the bear exhibit. Now known as the Great Bear Wilderness, this is the largest exhibit at the zoo. This exhibit also houses the bison and the Mexican Grey Wolves.
So even though you may live just a few minutes from this wonderful place, I'm sure there may be places you haven't explored or there are some changes you have yet to see. So pick a day and spend it at the Brookfield Zoo.