He's no "Quitler"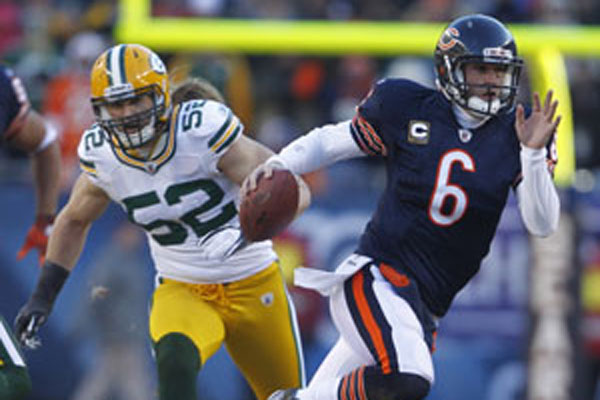 The Chicago Bears suffered a rough season-ending loss on Sunday versus the Green Bay Packers for the NFC Championship. This loss, despite popular belief, was not because of Jay Cutler leaving the game early  due to injury, butrather  the offensive line's lack of discipline.
The Packers gave the Bears too many chances to give them this game, and the Bears did not take care of business. While some may say Rodgers had a great game, his 55.4 passer rating was lower than Caleb Hanie's 65.2 rating.  But with a lack of leadership from Cutler, it was very tough for the Bears to pull off a win.
Cutler has been a great addition to the team and has brought the team to new heights. He has been the best Bears quarterback in a long time and can be trusted with the ball. The Bears' problem is the lack of a good offensive line and receivers. Defense is rarely a problem for the Bears any year, and they could have held up through the Super Bowl if they made it there.
The Bears' offensive line has given Cutler hell the past two seasons. The Bears led the NFL in sacks allowed, with a grueling 56 takedowns. It's amazing he only had one concussion through the regular season, while Aaron Rodgers of the Green Bay Packers suffered two this season and look where Rodgers team is now.
The O-line also lacks in giving Matt Forte room to run the football. The team sits at the bottom of the pit for rushing yards and rushing touchdowns. Despite the weak line, Forte was able to break 1,000 yards this season. Imagine the damage he can do if he had a good line and the pressure he would take off of Jay Cutler.    
Despite his limited time for passing, Cutler was able to sit at a 86.3 passer rating for the season, which stacks in the top half of all quarterbacks in the NFL. He also finished in the top 20 for passing yards. While dealing with a group of average wide receivers, their lack of experience and overall skill also limits Cutler's potential. There was not one Bear receiver that broke the 1,000 yard mark or over 6 touchdowns. It's hard to rely on such young receivers to pull through with big plays that big names like Miles Austin or Reggie Wayne do regularly.
Overall, Cutler is a great quarterback for the Chicago Bears and we cannot blame him for one injury. He brought our team to the NFC championship game with a bye, a result we did not expect at the beginning of the season at all. If we inprove our offensive line and touch up on our receivers, the Bears will be a Super Bowl contender for years to come.