Let the kid have pink nails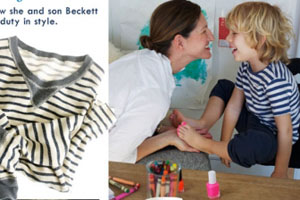 A recent J. Crew ad depicted a mother, actually J. Crew president Jenna Lyons, and young boy with neon pink nail polish on his toenails. This ad sparked a national controversy about gender roles and as an article on foxnews.com called it, "blatant propaganda celebrating transgendered children."
I, on the other hand, don't see a problem with this at all.
In the ad, Jenna Lyons said, "Lucky for me, I ended up with a boy whose favorite color is pink."
The kid looks to be around four years old. If he likes pink and wants his toenails to be painted to his favorite color, then what's the problem with that? It does not celebrate transgendered kids; just because a boy paints his nails at a young age does not mean that later in life he will undergo a sex change surgery. He is just having fun.
America is supposed to be a place where everyone is considered equal and has the freedom to express oneself. Going crazy over a small boy with nail polish on doesn't exactly fall under the realm of acceptance and equality in this country.
Sure, boys don't usually wear nail polish and it may seem weird to many, but that's really no excuse for the blatant intolerance of what could just be seen as a fashion statement. You know, it used to be unheard of for women to wear jeans…