RB's Got Talent – again!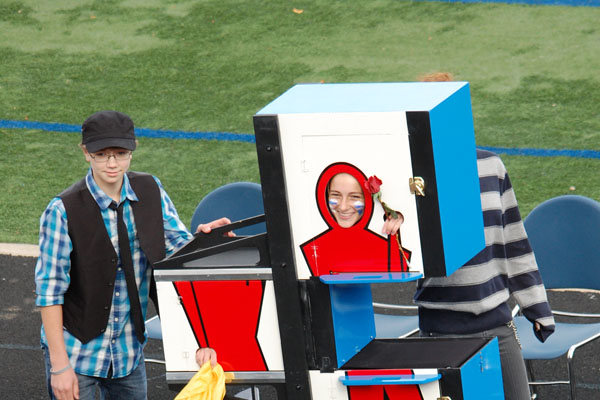 Last year, RB held its first talent show. It became a huge success, which is why music teachers James Baum and Diane Marelli were eager to hold another competition this year.
Auditions were held on Wednesday September 12th and were a huge success yet again. "I expect this year's show to be great. We have over 20 acts signed up right now to entertain everyone," talent judge James Baum said.
At last year's show, TJ Ketchmark was the winner. His talent was magic. "T.J.'s magic always impresses me," Baum said. Ketchmark performed his act at the homecoming rally, which was held shortly after his victory.
The show is open to all students, as the judges are eager to find candidates around the school to showcase RB's many unique kids. "We open the show to the entire student body to try to get the best variety. I recruited students in all the lunches trying to look for any talent possible," Baum said. "I believe every student has a talent that is worth sharing, but sometimes it takes a little to get it out of them."
This year's show will be no different in terms in variety of talents. "Many of the acts are musical, but there are several non-music acts as well," Baum said when asked about expectations for this year's show.
In the past, judges have been amazed by the amount of talent students brought to the event.
That being said, it takes a lot of courage to showcase yourself in front of a live audience and both judges. "We look to get students who are brave enough to perform their talent in front of an audience. Some are performing some deeply personal works," Baum said when asked what he looks for in a contestant. "It takes guts to put yourself out there like that to be judged by your peers. Beyond that, I would characterize all of our contestants as outgoing and creative."
The show will be held on October 4th and admission is three dollars. Since the competition is being held during Spirit Week, students that attend will get spirit points for their class by attending the event. Activity fees will not be accepted for admission, but all proceeds from the night go towards new instruments for the school band.
The music department invites all to come and have fun being entertained by the many unique talents RB students have. "Last year we had Kelly Glavin out on her unicycle while playing ukulele. That was pretty cool. I'm still waiting on that sword swallower who can juggle kittens," Baum said, laughing.