Jaycee's Haunted House: a valued Brookfield tradition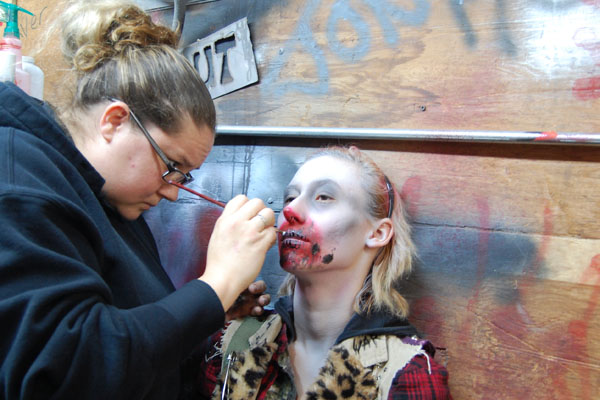 Are you tired of watching scary movies, one after another, looking for something to give you nightmares for the next couple of nights? If so, Jaycee's Haunted House in Brookfield might be just the thing for you. It recently opened for the public and is guaranteed to terrify you for weeks to come.
Attracting around 5,000 visitors a year, the haunted house has been an annual tradition for the last 36 years, with most of that time spent right in Brookfield.
"Every year we choose a 'theme' or a 'slogan'. This year's Haunted House Theme is 'Redneck Rampage.' As you may, or may not know, our Haunted House is built inside two mobile trailers," said Public Relations Chairman John Hanna. "We've never been ashamed of that and this year's Haunted House Chairman, Jimmy Volke, opted to embrace that fact."
To give you even more insight into this year's haunted house, here's what you can expect if you visit.
"We have wood shingles on the front with porch and a chicken coop.  There is also a small structure that serves as a Recruitment Booth for us to enlist more members to join our organization.  That structure resembles an outhouse," Hanna said. "If you think about it, most scary movies take place in the wilderness (Camp Crystal Lake, Texas Chainsaw Massacre, etc) so the 'Redneck' theme works."
Also, if you're thinking Jaycee's will be more or less the same as in the past, you are completely wrong.
"We have also redesigned a majority of our Haunted House inside. More than 80% of the rooms inside our Haunted House are new for 2012," said Hanna. "The rooms have been changed up a bit and new ideas have been implemented, though some are old rooms from year's past that we brought back, but changed up a bit."
All proceeds from the Jaycee's Haunted House go to helping out Brookfield and its surrounding communities.
"The Haunted House is our largest revenue generator for our Chapter. The proceeds raised allow us to run additional projects throughout the year that benefit Brookfield and the surrounding communities," said Hanna. "The projects include our Annual Children's Easter Egg Hunt, Thanksgiving for the Soldiers, Christmas at your Doorstep and many other projects that allow us to give back to the area."
The committee working on the haunted house also hopes to help leadership within the community. "We hope to recruit new members into our organization between the ages of 18 and 41. The easiest description of who we are is that we are a Leadership Training through Community Development organization," Hanna said. "By running these various projects (plus many, many more) it teaches the members various skills such as planning, budgeting, public speaking and much more."
Yet another goal this organization has is to get recognition for its superiority over its competitors. "We do strive to be the best Jaycee Haunted House in Illinois every year.  This is an award that we covet and we are proud to say that we have been awarded this honor numerous times over the past several years," said Hanna.
Admission costs $7.00 per person, unless you bring in a non-perishable food item which would discount your price to $6.00.
The Jaycee's Haunted House hours of operation are as follows:
10/11 – 10/14
10/10 – 10/21
10/25 – 10/28
10/30 and 10/31
7:00 pm – 10:00 pm nightly
11:00 pm on Fridays and Saturdays.
If you want to bring children to the show but aren't sure if they can take the terror, Jaycee's also has a perfect solution.  In addition if you want to bring your children to the show but aren't sure if they can take the terror, Jaycee's has the perfect solution for you. It offers a Lights On Kid's Matinee on Sunday October 28, from 2pm-4pm for $3.00 per child.
The Haunted house is located at Jaycee Ehlert Park, 4315 Park Ave. Brookfield, IL 60513.