Kate tells you how to conquer NaNoWriMo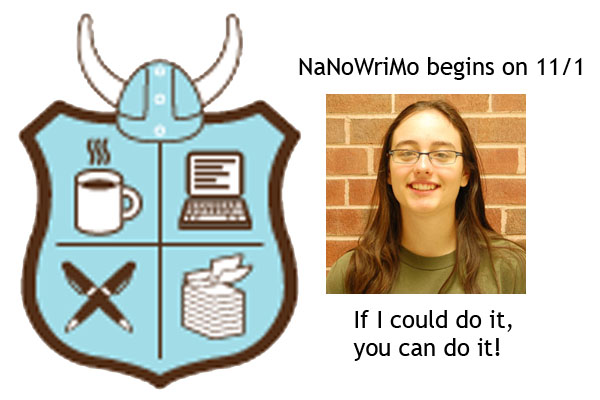 Be prepared for a handful of students around the building to be mysteriously unavailable after school, to be muttering under their breath about word count and plot devices, and seizing any chance to type frantically on a computer while refusing to show you what they're doing.
I will be one of them.
No, we're not suffering from a mysterious and unknown disease; we are just writers on a deadline.
November is National Novel Writing Month, aka NaNoWriMo, where students throughout the building, and the country, are encouraged to try their hand at writing a 50,000 word novel in 30 short days. That's an average of 1,667 words every day.
That's a lot of words.
But it is possible; I can attest. Last year I was one of two RB students who successfully typed out those last few words the evening of November 30th, along with then-senior Abigail Perez-Gonzalez.  It was an amazing experience, and I'm looking forward to repeating it.
For everyone willing to give it a try, there is an informational meeting at 3:15 p.m. on Thursday, November 1st, in the library.  Failing that, you can talk with English teacher Bridget Wilmot for information about the program or inquire in the library.  You can also visit NaNoWriMo's official web site.
The purpose of the challenge is to have fun, and if you don't finish, you are not alone.  Whatever you get written is still an accomplishment and more than someone who didn't even start.  So why not give it a try?
To help you out, here are some tips and strategies that I figured out last year.  However, I'm posting them with the disclaimer that everyone's writing style is different, and what worked for me, may not work for you.
Ignore the Laws of Coherency:
No one has to read it.  Ever.  So feel free to make conversations that don't quite make sense or change the focus halfway through the story.  Along the same lines, don't bother wondering, "Is this a good idea?"  If you think you can write it, give it a go.
Don't Get Hung Up on Writer's Block
You don't have time.  While writer's block usually arises from something earlier in the story going wrong, don't go back and fix it!  Just keep going, even if you realize the scene you are writing may be utterly pointless.
Avoid Contractions
Don't use "don't."  Why bother when using "do not" gives you twice as many words?
Write a Little Every Day
Help keep your mind in the right place.  1,667 words a day sounds like a lot, but trying to write 11,669 words in a weekend might be even harder.
Change Your Habits
Taking a break from watching TV for a while might be a good idea.
Don't Dread It
Don't go home each day worrying about all the writing you have to do.  If it's not fun, it's not worth it.
Stick in a Random Giant Octopus
If you don't have any more ideas, try a reference to something random that no one else will understand.
Accept the Challenge
Team up with a family member or a friend.  When you see what progress they've made, you'll want to match them.
Don't Research
I would caution you against writing something you'll need to research, since you won't have the time.  Write about what you know or invent something else completely new.
Homework?  What Homework?
I'm not saying ignore your school work, but prioritize and manage your time.  if you can finish your homework in the five minutes at the end of class instead of chatting to a neighbor, you've got some extra time for writing later!
Don't Ignore the Obvious
Type the story and look at the word count tally.  Do not write by hand!
Do you have your own strategies and ideas?  Share them through a comment!  I need to hear them if I'm going to finish my second book!